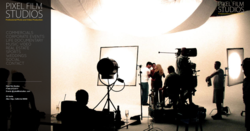 Our love for filmmaking/photography has helped us make a leap into the wedding market.
Aliso Viejo, CA (PRWEB) July 13, 2012
The creative team at Pixel Film Studios offers extensive experience and love for filmmaking/photography has decided that it's time to enter the wedding market. The strength of our approach lies in a close relationship with our clients as well as artistic results that eternalize any wedding ceremony.
"It wasn't a hard decision" Christina Austin, CEO, of Pixel FIlm Studios, said. "Our mission is to capture the unique and intimate moments that make you who you are as a couple. Wedding photojournalism's charm lies in telling your story naturally".
As popular as the Orange County wedding video was with the wedding guests, it's taken on a life of it's own online. Christina posted the video to vimeo.com yesterday but it's garnered more than 10,000 hits so far, and netted attention from a number of media outlets.
"It's just perfect," Giffany, the bride, said about the film. "I woke up this morning and had many missed calls and I don't know how many emails and text messages."
About Pixel FIlm Studios-
Pixel FIlm Studios is a commercial production company specializing in high energy fitness commercials. Pixel Film Studio's innovative approaches in cinematography, film technology, and post-production come together to form a creative, natural, and expressive visual experience.