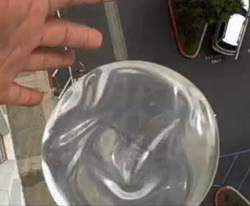 He takes a serious topic -- elective surgery -- and puts it in an accessible, even fun light.
Newport Beach, CA (PRWEB) February 13, 2011
For those researching Orange County Plastic Surgeons, plentiful information can be found from multiple sources on the web. As with most medical information, much of the material to be found is dry and technical in nature. However, with the release of a series of web videos, one surgeon in Newport Beach is taking a creative approach to answering some of the questions he frequently receives.
Starts by Answering a Simple Question
"I often hear, 'How will breast implants affect me during a mammogram?'" says Dr. Sanjay Grover, Los Angeles and Orange County Plastic Surgeon. "After telling patients about the durability of implants, I finally decided it would be best just to show patients exactly what happens when a breast implant meets a mammogram machine."
The resulting video garnered interest from patients and has led Dr. Grover to going to great lengths to test the durability of implants in a series of videos. He has dropped implants off of a building, run over them with his car, and even cut open new Silicone Gel implants to give patients a better understanding.
David Phillips, CEO of NKP Medical Marketing, notes that Dr. Grover's approach has been a revelation to those wanting to learn more about plastic surgery. "It takes a serious topic -- elective surgery -- and puts it in an accessible, even fun light."
Patient Testimonials and TV Appearances
Whether discussing Facelift, Liposuction, VelaShape, Breast Procedures or Tummy Tuck with those researching Orange County Plastic Surgeons, Dr. Grover always finds interesting ways to connect with those seeking information about aesthetic procedures. After hearing from many who had seen his TV appearances on The Doctors, Access Hollywood, Extra! and the BBC, Dr. Grover knew he could connect even more with patients via video.
Now, the conversation goes both directions. Patients are featured discussing their experiences with Dr. Grover on his YouTube channel as well as on his Newport Beach Plastic Surgery website. Dr. Grover answers patient inquiries in videos as well.
Phillips notes, "He listens, and he's very responsive to his patients. I believe that people find that refreshing."
Dr. Grover's years of experience in Beverly Hills, Orange County, Newport Beach and Los Angeles Plastic Surgery have given him the opportunity to continue to reach more people and educate via the web and in his office. To learn more about Dr. Grover, visit his website at http://www.drgrover.com/ or contact his office directly at (949) 759-9551.
# # #