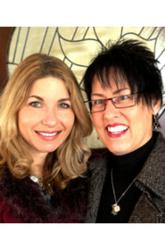 "The Heart Link Network helps women connect, bond and grow personally and professionally. Women are stronger when they are connected. Communities are strong when women are connected." - Dawn Billings, Founder of The Heart Link Network
(PRWEB) April 05, 2012
The Heart Link Network®, best women's networking, welcomes a new business networking chapter in Orange. The women's networking chapter in Orange is led by Misty Radke, health and wellness professional and independent distributor for Boresha International and Kimberly Franzen, independent bedding and linens consultant with Private Quarters. Female entrepreneurs Misty and Kim were selected to lead The Heart Link Network chapter for women in Orange because of their dedication in aiding women by helping to expand their circle of influence, connecting with like-minded women, and creating meaningful relationships.
"As a relationship, networking and personality expert, who created the Primary Colors Personality test, I understand the importance of women having relationships that encourage and support them. The Heart Link Network helps women connect, bond and grow personally and professionally. Women are stronger when they are connected. Communities are strong when women are connected. Women are happy to share encouragement and support with one another. I am so excited after every Heart Link meeting I attend because I watch with excitement as new relationships grow that I know will help women succeed." – Dawn Billings, Founder of The Heart Link Network
The Heart Link Women's Network®, winner of the 2011 and 2012 "best women's Networking" award, is intimate and welcoming. The Heart Link Network® was created to showcase small business women and their businesses for a full 3 minutes versus other networking groups who only allow their attendees to share for 30 seconds to a minute.
The nominal $25.00 networking fee includes a business-exlcusive spot at the meeting, a roster of attendees, a 3-minute business showcase, and a light meal at the meeting. Women in business in Orange, CA may go to http://www.92869.theheartlinknetwork.com to register to network with like-minded professional women. To see a full list of women networking locations, or to submit an application to lead a chapter of The Heart Link Network®, visit http://www.theheartlinknetwork.com
The Heart Link Women's Network® was founded by Dawn L Billings, CEO and Founder of TROVA Business Network, Heart to Heart Media, Find-Success.CO, and CharitableHeart.org. Dawn is also an executive coach and highly sought-after speaker.
Ms. Billings, author and architect of the Primary Colors Personality Test and the patent-pending parent tool, CAPABLES Parent Tool, has dedicated her life to finding ways to benefit the lives of women and children. Dawn was selected as one of 15 Women of Achievement by the YWCA in Cobb County, GA., and one of the nation's 80 emerging women leaders by Oprah magazine and The White House Project.