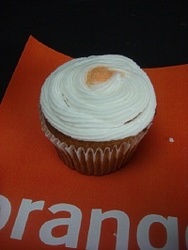 The Future's bright, the Future's Orange
Glasgow, Lanarkshire (PRWeb UK) April 27, 2009
Orange Telecom Celebrates its birthday on Tuesday 28th April 2009 not with a lavish birthday party, fireworks, champagne or cavier but with simple style and sophistication. No birthday cake for Orange just Sex In The City style chic, with bespoke cupcakes branded in their colours.
Orange plc was formed in 1995 from Microtel which was renamed Orange Personal Communications Services Ltd. France Telecom formed the present company in 2001 after acquiring Orange plc (which had been acquired by Mannesmann AG, itself purchased by Vodafone shortly after, leading Vodafone to divest Orange) and merging its existing mobile operations into the company. The company was initially 100% owned by France Telecom (although there were and still remain minority investors in some of the national operating companies). In 2001 15% was sold in an IPO, but in 2003 the outstanding shares were bought back by France Telecom.
The iconic Orange brand was created by the in house team at Microtel headed by Chris Moss , the advertising agency WCRS created the famous slogan "The Future's bright, the Future's Orange". The Orange logo is a square because it was deemed that the word orange might be confused with the fruit rather than the colour Orange which is seen as a strong Feng Shui colour.
Never one for doing anything mundane, to celebrate its fifteen years in telecoms Orange is celebrating its Birthday, not with the usual traditional cake, but with bespoke cupcakes supplied by Bradfords Bakers with of course the traditional orange colours. Cupcakes are the Gucci of the cake world and so makes perfect sense to celebrate a teenagers birthday with something out of the ordinary.
Happy Birthday Orange have a great day.
###