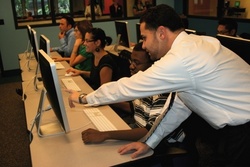 As a convenience, we bundle the classes so someone can take for example, PowerPoint Level I at 10 a.m. followed by PowerPoint Level II at 11:30 a.m. and so on
ORLANDO, Fla. (PRWEB) October 6, 2008
"As a convenience, we bundle the classes so someone can take for example, PowerPoint Level I at 10 a.m. followed by PowerPoint Level II at 11:30 a.m. and so on," said Eric Atkinson, the Library's Information Systems Department Head. Atkinson said it makes sense to make it easy for businesses to take advantage of the training available free or at minimal costs to area professionals. If an employee lives out of district or does not have a library card, the cost of a single class is just $10.
Typical class size is under 10 participants – offering ample opportunities for hands-on training and one-on-one interaction with the instructor. In addition, computer classes on the iLife and iWork application suites are offered at the new state-of-the-art Mac Lab located at the Orlando Public Library in the heart of downtown.
For a complete schedule of classes or to register, visit http://www.ocls.info or call 407.835.7323.
MULTIMEDIA GALLERY http://www.businesswire.com/cgi-bin/mmg.cgi?eid=5796822