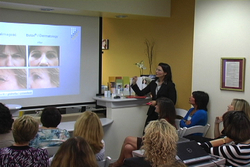 The only way to truly make the kind of changes a face lift does is with a face lift! There's no laser, no heat treatment nor any magic wand that can reposition skin and muscle and get rid of excess sagging skin
Orange County, CA (PRWEB) July 10, 2009
Orange County Cosmetic Surgeon and Dermatologist Lenore Sikorski offered a public seminar featuring truth and hype behind cosmetic advertising and literally ran out of space. An overflow crowd paid rapt attention as the popular Orange County cosmetic surgeon explained and showed just what people can honestly expect from the likes of Juvederm, Restylane, the new Fractional CO2 Laser Resurfacing like MiXto, Fraxel and her trademarked fast recovery ActiveLift.
"There are tons of great choices out there," she told attendees. "And there are tons of hollow promises, too. It's really buyer beware and it's up to you, as a consumer, to educate yourself."
Discounting some of the current marketing as "hype" with some very direct words, Dr. Sikorski urged that anyone who thought they could get a facelift from a nonsurgical procedure would likely be sorely disappointed. "The only way to truly make the kind of changes a face lift does is with a face lift! There's no laser, no heat treatment nor any magic wand that can reposition skin and muscle and get rid of excess sagging skin," she explained. "That takes a scalpel and a surgeon. I wish I could run a machine over skin and get the same results, but it's impossible."
Questions came up across the room. What about Thermage? What about Titan…or Accent or Refirme? Dr. Sikorski responded, "All the skin tightening technologies use heat to create the benefits. Thermage was one of the first and uses radiofrequency-induced heat that helps recoil loose collagen. Some use infrared heat. Who's to know which one is the best? They all have the potential to tighten."
"We lose elasticity in our skin as we age and a heat source will have an impact on how 'firm' the skin tissue feels and looks. But firming is not a facelift. Occasionally a patient will get some outstanding results - and those are the photos you see on the internet - but there's no guarantee you'll get similar results. We use Thermage here, but I make sure my patients understand the limitations. If someone is totally freaked out at the thought of surgery, a combination of Thermage and other procedures and/or fillers can sometimes be enough… but I never say anything is going to take the place of surgery."
What about Lifestyle Lift? "The marketing program for Lifestyle Lift is fantastic. But again, the photos you see generally are accompanied by fine print that notes the patients have had additional surgeries to get the effect you see in the picture. You could be misled if you aren't paying attention," she cautioned.
Dr. Sikorski advised patients leaning toward franchised surgery to take the time to read the social forums and know what the potential pitfalls are. "Realself.com," she noted, "is a great place to get real patient comparisons as well as other physician opinions. Not just for Lifestyle Lift, but for just about any cosmetic procedure on the market. Research the doctors you're considering. Insist on consulting with the specific doctor who will be doing the procedure. You have the right to ask as many questions as you need. And you should be asking questions. Lots of them."
Seminar attendees had ample supply of before and after patient photos to view while Dr. Sikorski explained what procedures they had had and how those procedures were performed. As a physician interested in educating, Dr. Sikorski periodically offers free public seminars. "Nothing beats face to face information," the doctor reiterated. "I've been offering free seminars and consultations for years. I feel it's one of my duties as a doctor and surgeon to help people understand the choices they have, whether they happen to be a patient of mine or not. With all the hype out there, somebody has to be willing to be pretty blunt. Thanks to my New York roots I don't have a problem telling it like it is."
Dr. Lenore Sikorski is a dual Board Certified Cosmetic Surgeon and Dermatologist. Her practice, Natural Image OC, is a full service medical Dermatology office offering both medical and cosmetic dermatological services, including skin cancer treatment and Mohs surgery, as well as cosmetic surgery and liposuction. Visit http://www.DrSikorski.com for additional information, contact phone and email and to register for educational enews and seminars. Natural Image OC is located in Laguna Niguel and encompasses modern dermatology treatment rooms, a fully accredited surgical suite and private surgical patient entry. Consultation bookings may be made by calling (949) 448 0487
###