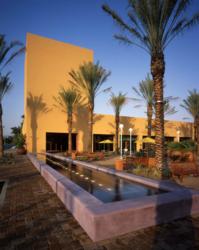 Time is the most difficult jury," says Dan Heinfeld, President of LPA. "The 25-year Award recognizes this ... We share this award with Legorreta Architects, our design partner, and The Irvine Company, our client.
Irvine, CA (PRWEB) October 25, 2012
Since 1967, the American Institute of Architects in Orange County (AIAOC) has recognized the region's best and brightest buildings through their annual architectural design awards. In order to receive an award, a project must be located in Orange County or designed by an Orange County-based firm. This year, LPA Inc., one of the largest architecture, engineering, interior design, and landscape architecture firms in California, kept its 36-year running streak by collecting five awards. A first for the firm was its win of the 25-year award, a special honor given to projects that have withstood the test of time.
"A winning project must be highly creative throughout a distinguished execution of its program, even by today's standards," said Richard Weie, 2013 President of the AIAOC, during the ceremony. "Selection of the award is conducted by a volunteer committee comprised of AIAOC past presidents and architecture fellows. This year's committee selected The Marketplace in Tustin, Calif., architect LPA, design consultant Ricardo Legorreta, and landscape architect POD. Constructed in 1988, the 150-acre marketplace is one of the first centers with a contemporary, unifying design aesthetic that was created for all tenants."
Honored projects must be completed between 25 to 40 years ago, must still be in Orange County, and must still carry out the original program—a tough thing to do, according to Weie.
"Time is the most difficult jury," says Dan Heinfeld, President of LPA. "The 25-year Award recognizes and honors this. To be relevant and still considered a fresh solution after 25 years is remarkable. We share this award with Legorreta Architects, our design partner, and The Irvine Company, our client."
Other awards received by LPA include: a Citation Award for the Bronco Recreation and Intramural Complex at Cal Poly Pomona, a Citation Award for the Monarch Valley Student Center at Los Angeles City College, and a Merit Award and Savings by Design Award for an interior renovation for Southland Industries—one of the nation's largest mechanical design-build contractors.
"The Savings by Design award acknowledges design teams—and also projects—that are able to maximize energy efficiency opportunities in their buildings, using efficient mechanical systems, lighting—and also daylighting, and great design in general," said Jessica Mack, New Construction Manager for Southern California Edison.
Mack, who's been with the Savings by Design program for more than 10 years, says she looks forward to the future and what's in store for commercial buildings. "I'm looking forward to working with our design teams—and looking toward the future—to meet the 2030 challenge," says Mack. "Also, to be able to look to zero-net energy and how it is going to affect commercial and residential buildings." For those not familiar with the term zero-net energy, Mack describes it as: essentially, going—almost—off the grid.
Named the 2012 California Design Firm of the Year, LPA credits the interior renovation at Southland Industries as one of the projects that helped them secure the designation. The project demonstrates LPA's ability to repurpose and refresh existing facilities and transform them into open, collaborative spaces more suited to the needs of the 21st century worker—or learner, in some cases. More than 75 percent of the interior spaces have access to daylight. Energy modeling predicts that the building—constructed in 1985—will now perform 28.5 percent better than California's stringent Title 24 requirements. "Renovation of an existing building is one of the most sustainable things we can do," finishes Heinfeld. "The Southland Industries SoCal Campus is an example for the region of a 'build less' philosophy. There are thousands of these types of buildings in Southern California, sitting vacant, and we'd like to see that change."
For more information about the AIAOC Awards, contact the chapter office at (949) 675-8273 or visit AIAOCawards.org.
About LPA Inc.
Founded in 1965, LPA has nearly 200 employees with offices in Irvine, Roseville, and San Diego, Calif. The firm provides services in architecture, sustainability, planning, interior design, landscape architecture, engineering, and graphics. There is no "Sustainability Director," at LPA. Instead, more than 80% of the professionals are LEED accredited, including the Human Resources Director, CFO, and several other support staff. With extensive experience in public and private architecture, LPA designs a diversity of facilities that span from K-12 schools, colleges and universities, to civic and corporate establishments. More than 500 major design awards attest to LPA's commitment to design excellence. For more information, visit LPAinc.com.