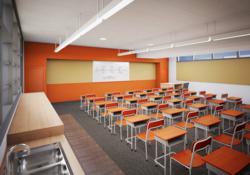 The kids will be able to analyze the data, work with it, and look for differences, trends, and patterns. It will be much more meaningful because it's happening at their school, and they're involved with it.
Costa Mesa, CA (PRWEB) September 13, 2012
School professionals have long wanted to "go green" but many required more factual proof and research, showing that the benefits of green schools—better air quality, higher test scores, lower utility bills, etc.—were in fact measurable and achievable. The Orange County Chapter of the U.S. Green Building Council (USGBC-OC) along with Irvine-based school design experts, LPA Inc., took action to "greenovate," or retrofit, a typical classroom at a local public school. The goal: to create a life-sized model, a green classroom, and test it against a conventional classroom, sans green upgrades, next door. The idea has become a reality at the Davis Magnet School in Costa Mesa, Calif. Design of the "greenovation" kicked off last November, construction began this July, and completion of the retrofit has come just in time for the inaugural Green Apple Day of Service, on Sept. 29, 2012.
"The economic environment that our public schools operate in is challenging," said Wendy Rogers, Chair of the USGBC-OC Green Schools Committee and Design Principal at LPA. "As a mother of two, and someone who designs K-12 schools for a living, I understand the challenges—and dwindling budgets—our schools are facing. I also know that with 55 million Americans spending six hours a day (or more) in school facilities, we must do a better job creating positive educational environments. Outdated buildings, with little access to daylight, outdated fixtures, and poor ventilation, do little to prepare today's learners for the future."
With the launch of this green classroom experiment, students at Davis Magnet get the opportunity to learn, first-hand, about their school building, how their actions in the classroom affect their environment, and how they can have an impact on their school's bottom line—both financially and environmentally.
The "greenovated" classroom has been gutted, insulated, and equipped with high-performance lighting that "harvests" daylight, environmentally friendly flooring and furnishings, wireless submeters (for monitoring utility usage), and a new ventilation system. All paints and finishes have high recyclable contents and low levels of volatile organic compounds. Positioned next to a conventional classroom, the retrofitted space will be used in an experiment that compares energy use between the two rooms. The retrofitted version will serve as an "active environment" where pupils will learn how to measure HVAC loads, monitor utility usage, and understand the importance of simple moves like turning off the lights before leaving an empty room.
"It's all very scientific," continues Rogers. "The conventional classroom has controls that have been in place since December to establish a baseline of energy use, pre-renovation, so we have the facts and figures of where we started and can see, with numbers, how much the greenovation improves performance."
Rogers said she hopes the classroom retrofit will raise awareness of the value of environmentally friendly classrooms in a county where just eight schools in 38 public school districts are considered green.
For the Green Apple Day of Service, Rogers and other members of the USGBC-OC will join teachers, parents and students to celebrate this noteworthy milestone in the Green Classroom movement—the completion of this classroom's retrofit and beginning of the "social experiment" to come. From 9 a.m. to 11 a.m. on Saturday, September 29, 2012, guests will gather at the Davis Magnet School for tours, green apples, and lemonade.
The "greenovation" has been funded through in-kind donations from a slew of private companies—at zero cost to the Davis Magnet School. LPA committed the time of a dozen school designers, along with financial support, to see this project come to fruition. The company has a long history of promoting greener, healthier buildings in Southern California—having completed its first "green building" in the 1980s—and having designed more than 100 K-12 schools. Other donors involved with the project include: Disney, McCarthy Building Companies, and Sunbelt Controls. For a full list of sponsors, please visit Davis Magnet School Greenovate.
Media Interview Opportunities:
Dr. Kevin Rafferty, Principal
Davis Magnet School
Science, Math, and Technology (K-6)
Newport-Mesa Unified School District
(949) 421-7619 | krafferty[at]nmusd[dot]us
Wendy Rogers, Head Green School Advocate
U.S. Green Building Council, Orange County Chapter
(949) 701-4151 | Wrogers[at]lpainc[dot]com
Davis Magnet School
1050 Arlington Drive
Costa Mesa, CA 92626
(714) 424-7930
About Green Apple Day of Service
On Saturday, September 29, 2012, the Center for Green Schools at the U.S. Green Building Council (USGBC) will host the first annual Green Apple Day of Service. For one day, advocates from around the world, including students, teachers, parents and elected officials, will come together in support of healthy, sustainable schools by taking action in their communities. For more information, visit CenterForGreenSchools.org.
About U.S. Green Building Council Orange County
The USGBC-OC Chapter's mission is to engage all green building stakeholders to be the conduit of change for a more sustainable Orange County through innovative communication, education, resources and advocacy. USGBC-OC promotes the integration of the built and natural environments to foster sustainable, healthy, and prosperous communities. For more information, visit USGBC-OC.org.
About Davis Magnet School
Davis Magnet School was selected based on the work that the K-6 institution was already doing to create a greener campus environment. The school has gardens; the students and teachers use composting; and the classrooms are oriented in a way that allowed designers to take advantage of natural sunlight—elements that came together to create the right environment for a green classroom project.
"As a science, math, and technology magnet school, this is a perfect fit for us because Davis Magnet School really emphasizes hands on, inquiry-based learning and real live experimentation," said Dr. Kevin Rafferty, Principal of Davis Magnet School. "To involve two of our classrooms, where we'll have a controlled classroom and an experimental classroom, and all of the measurements, and data, and information that's produced—will not only benefit the scientific researchers, but also be fully available to us, as teachers and students, here at the school. The kids will be able to analyze the data, work with it, and look for differences, trends, and patterns. It will be much more meaningful because it's happening here, and they're involved with it." For more information, visit DavisMagnet.NMUSD.us.
About LPA Inc.
Founded in 1965, LPA has nearly 200 employees with offices in Irvine, Roseville, and San Diego, Calif. The firm provides services in architecture, sustainability, planning, interior design, landscape architecture, engineering, and graphics. There is no "Sustainability Director," at LPA. Instead, more than 80% of the professionals are LEED accredited, including the Human Resources Director, CFO, and several other support staff. With extensive experience in public and private architecture, LPA designs a diversity of facilities that span from K-12 schools, colleges and universities, to corporate and civic establishments. More than 500 major design awards attest to LPA's commitment to design excellence. For more information, visit LPAinc.com.