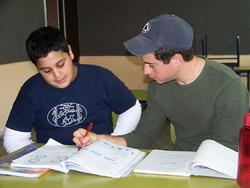 We are launching a new volunteering opportunity for every Jewish person between the age of 18 and 80, to come to Israel and do a volunteer program for a week or more
Kfar Saba, Israel (PRWEB) September 15, 2009 -
Last week during a live webcast, president and founder of Oranim Educational Initiatives, Shlomo Lifshitz -- more commonly known as "Momo" -- formally announced his revamped agenda for the growing company. After parting ways with Taglit-Birthright Israel two months, Momo is not only launching his own remake of the famous free 10-days trips to Israel, but will also be introducing a customizable short term volunteering program in Israel eligible for Jews of all ages.
"We are launching a new volunteering opportunity for every Jewish person between the age of 18 and 80, to come to Israel and do a volunteer program for a week or more," stated Lifshitz. "While we already have several long term programs in place, I think it is important to provide a similar experience for those who might not be able to pick up and come to Israel for five months. With our new short term volunteering program, all Jews have the opportunity to contribute to Israel through meaningful volunteer service."
Unique to the current market, Oranim's new program allows individuals the opportunity to build their own volunteer experience in Israel from 1 week to up to five months. If one wants to come alone, with friends, with a community group or organization, Oranim community service consultants will pair them with a meaningful service project in an Israeli community, based on one's talents, desires and requirements.
In addition to securing participants with a meaningful volunteer placement, Oranim allows participants to customize travel and lodging preferences from an "a la carte" menu of choices, such as hotel accommodations from economy lodging to five-star hotels, day and overnight trips - with a group or private guide, health insurance, travel insurance, Hebrew Ulpan, private lectures on Israeli culture, politics or society, and guided museum and/or site visits. The total cost of the program is a $150 placement fee plus the selection of a la carte services. More information and registration can be found at the Short Term Volunteering website.
"My vision is to make Oranim the future of volunteering in Israel," states Lifshitz. "Visits to Israel can play a significant role in connecting Jews from all over the world to Israel and making Israel a significant part of people lives."
For additional information or to schedule an interview with Momo please contact Todd Edelman, Director of Marketing.
About Oranim Educational Initiatives:
Oranim has been a world leader in Jewish travel since 1986 providing unique and professional tours and programs in Israel to organizations and individuals within the Jewish community. Oranim's programs strengthen the identity of young Jewish adults from across the globe and encourage them to become an active participant of the Jewish community. Oranim is best known for its work with Taglit-Birthright Israel and has had the privilege of being the largest and most celebrated Taglit-Birthright Israel organizer in the world, with 50,000 alumni. In partnership with MASA, Oranim is bringing the same level of Tagit-Birthright Israel programming excellence to short and long term programs in Israel. The mission of the Oranim and MASA partnership is to increase the number of young Jewish adults, ages 18 to 30, who will visit Israel. In doing so, Oranim and MASA's partnership will increase the rate of aliyah, boost Israel's economy and strengthen the connection between Israel and Jews in the Diaspora.
Contact: Todd Edelman, Director of Marketing, Oranim Educational Initiatives
Toll Free from US: 888-351-9897, CAN: 866-269-6889, Intl: +972-9-767-4477
http://www.destinationisrael.com
###