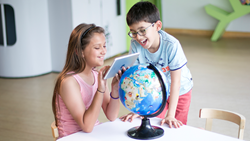 "We've had this idea for a while, and we're eager to get our product in the hands of our backers. We just want to make learning meaningful for kids."
Buffalo, WY (PRWEB) April 07, 2017
Orboot with Play Shifu Technologies, Inc., officially ended their Kickstarter campaign, raising over $77K from over 1,500 backers. The creators of the interactive Orboot globe are currently going into production after their 35-day-long crowdfunding campaign and will continue pre-sales on Indiegogo's InDemand platform.
The creators of Orboot got the idea for the immersive globe when they realized how difficult it can be to visualize the Earth as a child since there are so many countries, states, and borders to learn. Being parents themselves, the makers of Orboot thought simplifying the process would make it a fun learning experience for children. They want to bring the augmented reality experience to parents, homeschoolers, teachers and innovators.
"We are very proud of the success of our campaign and look forward to continue to offer Orboot to all kinds of consumers across the globe," said Vivek Goyal, Business and Product Advisor of Play Shifu Technologies, Inc. "We've had this idea for a while, and we're eager to get our product in the hands of our backers. We just want to make learning meaningful for kids."
The Orboot globe performed exceptionally well on Kickstarter where backers were able to purchase Orboot at a discounted price. They will continue to sell on Indiegogo's InDemand platform at a discounted price due to the great success of Orboot. Orboot works on any smartphone or tablet compatible with iOS or Android.
The Orboot team plans to sell their main globe for $42 with 8 features, which is 30% off the future MSRP, on Indiegogo. For more information about Orboot, visit the InDemand campaign at http://bit.ly/OrbootIGG.
About Play Shifu Technologies, Inc.
Founded in 2015, Play Shifu Technologies is a startup based in Bangladesh. The team consists of parents, early learning experts, innovators and technologists. Play Shifu's aim is to make every experience exciting and meaningful for kids. For more information, visit the website at http://www.playshifu.com.