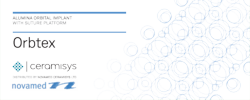 Surgeons using the Orbtex implant have appreciated the improved efficiencies during surgery and the ability to size the product appropriately for enhancement of cosmetic results.
Dundee, Scotland (PRWEB) December 06, 2011
Ceramisys Ltd. has received FDA 510(k) clearance to market its new bio-inert, ceramic orbital implant, Orbtex™, for use by specialist Ophthalmologists performing enucleation and evisceration procedures, typically for patients that have suffered from specific tumors or trauma to the eye. The Orbtex implant was developed from a proprietary process, which provides a smooth, but highly porous, fully interconnected ceramic matrix similar to what is found in human cancellous bone. This serves as an ideal scaffold for complete soft tissue ingrowth without resorption.
The Orbtex implant was designed in collaboration with leading Ophthalmic surgeons to provide a smooth yet porous surface incorporating a suture muscle attachment platform to minimize intra-operative time and simplify the sizing and preparation process. The Orbtex implant is now the preferred choice in many leading UK & European centers and is increasing in popularity in the Middle East & other markets worldwide.
Resulting from more than a decade of experience with its ReproBone bone graft products, the Orbtex implant has high strength, low friability, as well as avoiding the need for tissue wrapping and extensive intra-operative preparation.
Orbtex implants are available in sizes from 14 to 22 mm. Standard BioCeramic and "HA" hydroxyapatite are also available.
We are pleased to confirm that both Orbtex and standard implants are available exclusively in the USA from EyeMedis Inc. at sales(at)EyeMedis(dot)com or sales(at)orbtex(dot)com. More information can be obtained at http://www.orbtex.com.
###