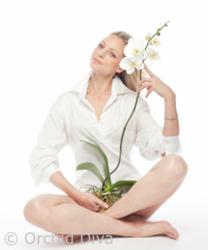 As a passionate Orchid lover I want to make these exquisite flowers a part of New Yorker's life
New York, NY (PRWEB) January 19, 2012
At the end of 2011, fashion model and floral designer Juliette Vassilkioti launched online orchid shop orchiddiva.com in New York. Orchid Diva specializes in creating unique orchid arrangements. Juliette sets new standards for style of orchid arrangements by changing their dated look to fresh, modern and luxurious design. This makes Orchid Diva arrangements an unforgettable gift and essential element to any interior. Orchid Diva online shop is not limited to ready-to-buy orchid arrangements; free consultation and custom design is a part of Orchid Diva services.
No stranger to the world of beauty and elegance, Juliette first attained success as a fashion model walking the runways for some of the worlds leading fashion designers like Nina Ricci, Bob Mackie, Thierry Mugler, Yohji Yamamoto just to name a few.
Originally from Russia's cultural capital city St. Petersburg the ever - evolving fashion Diva has transitioned seamlessly into her role as The Orchid Diva combining the winning ingredients of a formal education, a passion for floral design and her own uniquely creative design sensibilities.
She is in fact today very much like a fashion designer but instead of using fabric her main material is magnificent orchid plant. Juliette embraces the orchid's natural elegance with minimal structural design and modern expression.
"My online Orchid Shop helps me to connect with people, allows me widely share my passion, educate my customers about versatility of orchid plants. As a passionate orchid lover I want to make these exquisite flowers a part of New Yorker's life" - says Juliette, The Orchid Diva.
Many people believe the long-standing myth that orchids are hard to care for. In general, this is not true - orchids are among the most durable of all flower species with the ability to bloom up to 8 weeks with simple care.
Visit http://www.orchiddiva.com today to explore the beauty of orchids, send an unforgettable orchid arrangement to someone in New York or select an essential orchid element for your interior. Orchid Diva offers same day delivery anywhere in New York for orders received before 12pm. It's never been so easy to choose and purchase artistic orchid arrangements online.
###