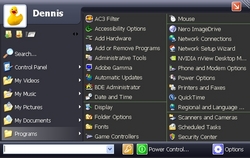 Secaucus, NJ (PRWEB) May 2, 2008
OrdinarySoft has released a new version of its best-selling product, Vista Start Menu. The new version features several improvements including support for new "Mimicry" Skins, One-Click Menu Editing, a Power Panel Timer, and more. Vista Start Menu 2.8 is a huge leap forward in graphic user interface design, far surpassing the program's main competitor, Windows Start Menu.
One of the main features of Vista Start Menu 2.8 is support for various "skins" that allow users to customize the graphical "look" of the menu interface. The skins support unique "Imitative Color" technology, enabling the display of software programs in a style native to the Operating System installed on the user's computer. A default set of skins includes Vista, XP and Classic styles.
Version 2.8 lets users easily add and remove items in the main menu with just the click of a button. Another new button allows users quick access to a secondary menu with folders and commands which are used less frequently, allowing these items to remain at hand without "overcrowding" the main menu. Additionally, the Power Panel adds a scheduled timer, allowing users to choose when to switch off or restart the computer.
Vista Start Menu is a superior alternative to the standard Windows Start Menu, which is less user-friendly and often difficult to navigate for launching programs or searching. Vista Start Menu is intuitive and efficient; it displays your programs together with their unique icons; it preserves a program's position in the menu list; it allows you to launch programs in one click; and it contains numerous other useful features.
OrdinarySoft has been providing computer users with high-quality software solutions since 2004. The company specializes in the development of software programs that make everyday computer usage easier, more productive and fun. OrdinarySoft currently serves a customer base that has grown to over one million users in less than four years.
###