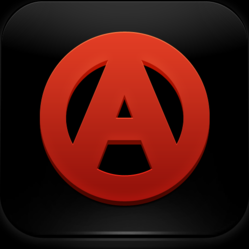 "I believe in staying alive. Listen, I'm going to give you and your God five seconds to clear the street. After that, I'mma start shooting." - Ordo Abchao (2012)
New York, NY (PRWEB) May 01, 2012
@GreyEcologist, an atheist minister, released on iTunes an iPad book application called Ordo Abchao ("ordo ab chao"; order out of chaos), a scripture for non-believers. Released on April 19th to commemorate the death of Charles Darwin, Ordo Abchao tells the story of Nas Eddin, a San Francisco weed grower, and a member of the Atheism Is Religion (AIR) movement, trying to survive an apocalyptic near future where winged creatures nicknamed 'angels' have invaded Earth, but mysteriously disappear at night. When Nas auctions his weed for food supplies, his winning bid brings chaos to his doorstep in the form of a vulture named John B.
Ordo Abchao (Freemium: first level free, then $6.99) is the original First Person Shooter Punk (FPS-Punk), a convergence between gaming and literature. FPS-Punk takes intrinsic elements of the narrative, and turns them into game mechanics, i.e gaining points, retrieving emails, achieving statuses, and becoming an AIR member while progressing through the levels of Ordo Abchao. Game mechanics have been used to enhance many non-game contexts, and FPS-Punk uses game mechanics to not only enhance, but to create an immersive reading experience.
"When I started Ordo Abchao, I was really inspired by George Orwell's 1984. I wanted to tell a story about a dystopian near future, about a future that would feel as real as a nightmare, or as a hallucination does. I believe that the screen as a medium calls for immersion and seduction, that it needs new and innovative reading experiences. So I decided to take elements from gaming that have had on me that immersive, and almost psycho-active effect I was looking for, and I applied them to my narrative. I think Ordo Abchao captures that game-like immersion, and truly is a convergence between gaming and literature." said @GreyEcologist.
Ordo Abchao can be downloaded on the iTunes store here. For additional information, and to learn more about Ordo Abchao, visit http://www.ordoabwiki.org.
About @GreyEcologist,
@GreyEcologist is a fictional atheist minister who writes tips on how to become a better atheist on the Atheism Is Religion blog, as well as being the pseudonym of Gareth Mensah, a video game addict who keeps up with innovative video games and innovations in gaming on the Video Game Canon.