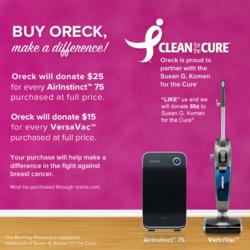 We are proud to support the Susan G. Komen for the Cure® foundation through the Oreck Clean for the Cure® initiative. And it wouldn't be possible without our loyal consumers. We're in the fight against breast cancer together! —Doug Cahill, CEO, Oreck
Nashville, Tenn. (PRWEB) October 22, 2012
Oreck Corporation is proud to support the fight against breast cancer through Clean for the Cure®, a special program through which Oreck will make donations to the nonprofit, Susan G. Komen for the Cure®. The initiative offers four ways for consumers to help make a difference.
During the month of October, Oreck will donate $15 for every VersaVac™ upright vacuum purchased at full price, as well as $25 for every AirInstinct® 75 air purifier purchased at full price, through its website, oreck.com.
Additionally, as part of an ongoing program, Oreck will donate 50¢ to Susan G. Komen for the Cure for each new Facebook "like" and 50¢ for each new email sign-up received.
All donations will be made directly to Susan G. Komen for the Cure, the largest nonprofit in the world dedicated to the fight against breast cancer.
"We are proud to support the Susan G. Komen for the Cure foundation through the Oreck Clean for the Cure initiative. And it wouldn't be possible without our loyal consumers. We're in the fight against breast cancer together!" said Doug Cahill, Oreck's CEO.
As a long-standing partner of the nonprofit, Oreck is a member of the Komen Million Dollar Council, a special group of sponsors, partners and corporate foundations that have contributed a minimum of $1 million in support of the Komen promise to save lives and end breast cancer forever. This is Oreck's sixth year to partner with Susan G. Komen for the Cure.
One of Oreck's newest products, VersaVac is a full-powered, bagless upright vacuum that is also a steam mop*. The 2-in-1 cleaning system works on both carpet and hard floors so there's no need for multiple floor care products (such as brooms, dustpans, buckets and mops) that are usually required to maintain most bare floors. VersaVac features an on/off brushroll (which allows users to easily transition from carpet to hard flooring), a bagless, easy-dump canister cup and adjustable steam levels for any sealed floor need.
The AirInstinct 75 uses advanced technology, superior design and HEPA filtration to take the guesswork out of air purifiers. When set on automode, its unique PATH™ (Pre-filter, Anti-odor, True HEPA) filtration system continuously checks particles in the air passing through its sensor and adjusts its air flow speed accordingly.** A three-color lighting system lets users know when the air purifier is working and at what speed.
To learn more about Oreck's Komen partnership, VersaVac™ or AirInstinct 75, visit http://www.oreck.com.
About Oreck
Headquartered in Nashville, Tenn., Oreck Corporation is a leading manufacturer in the homecare industry, offering a variety of vacuum, steam, air purification and other cleaning products. Oreck sells its products in hundreds of Oreck Clean Home Centers, direct to consumers and through other leading retailers. The company distributes products in the U.S., Canada and parts of Europe. For more information, please visit http://www.oreck.com.
About Susan G. Komen for the Cure
Since its launch in 1982, Susan G. Komen for the Cure® has played a critical role in every major advance in the fight against breast cancer – transforming how the world talks about and treats this disease and helping to turn millions of breast cancer patients into breast cancer survivors. The nonprofit has global headquarters in Dallas, Texas, 120 Affiliates in the United States and three international Affiliates (in Germany, Italy and Puerto Rico) and partnerships in more than 50 countries around the world. To date, they have invested almost $2 billion in research and life-saving community programs. For more information, please visit http://www.komen.org.
*Not for use on fine silks, velour, very thin plastics, unsealed hardwood, laminates, engineered hard floor surfaces, ceilings, drywall and exterior paint of automobiles, electronics or items using electricity.
** Particle reduction and air circulation depend on many factors. All air in a room may not pass through the filter.