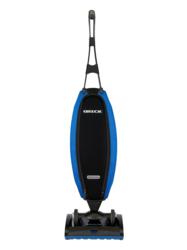 Our new products selected by the Housewares Design Awards are based on customer needs and wants. Magnesium, DualMax and AirInstinct 200 are leading the way for the next generation of clean made easy. —Doug Cahill, Oreck's Chief Executive Officer
Nashville, Tenn. (PRWEB) January 03, 2012
Oreck Corporation, a longtime industry leader in the manufacturing and sales of quality homecare products, announces that three of its newest products, the Magnesium™ upright vacuum, the AirInstinct™ 200 air purifier and the DualMax™ air purifier, have been selected as finalists in the prestigious 2012 Housewares Design Awards.
All three of the products are also eligible for a "Best of the Best" Award for the best housewares products of the year.
"Oreck is a terrific brand with a very loyal customer base. For the past 18 months, we listened and learned a great deal from our consumers about her needs and wants. These three new products have been developed and designed based on those learnings and are leading the way to making cleaning easier. We are honored to be a finalist for the Housewares Design Awards, very grateful to our loyal 'Love my Oreck™' customers and proud of all the Oreck team members who made this possible" says Doug Cahill, Oreck's Chief Executive Officer.
Called "the Oscars® of home design," the Housewares Design Awards is the premier awards competition focused on the housewares industry. Winners will be announced at the Housewares Design Awards presentation ceremony and luncheon on Tuesday, January 31, 2012 at the New York Marriott Marquis.
The Oreck Magnesium upright vacuum, a finalist in the Floor Care and Cleaning Appliances category, solves the consumer's dilemma of having to choose between power and weight when buying a vacuum. It has a durable magnesium alloy frame that is stronger than many types of steel and is lighter than aluminum. It weighs only 7.7 pounds without the cord and is the lightest, most powerful two-speed vacuum Oreck has ever offered. Its high-performance motor delivers 102 mph of airflow for deep cleaning power and spins the rollerbrush at 7,000 rpm. The lightweight design combined with the high power makes it feel as if it is self-propelled. Large high-performance rear wheels with cylindrical wheel bearings give the Magnesium maneuverability, making it easy to push through both short and longer-pile carpet. The Magnesium can lay virtually flat to reach under furniture easily.
The Oreck AirInstinct 200 air purifier, a finalist in the Home Environment Appliances category, is the most powerful HEPA air purifier ever offered by Oreck. HEPA filtration captures 99.97% of airborne particles down to 0.3 microns, including dust, allergens, pet dander, cigarette smoke, and other odors that pass through Oreck's unique PATH™ (Pre-filter, Anti-odor, True HEPA) filtration system.* The Oreck AirInstinct continuously monitors particles in the air passing through its Smart Air Sensor (unlike most air purifiers that leave users wondering what speed to use and how to know it's working). When set to automode, the AirInstinct automatically adjusts airflow speed as the detected particle levels increase and decrease, which saves energy by automatically running at the lowest, quietest setting and enables users to just "turn it on and walk away™." The four-color lighting system gives users a visual cue that the unit is working and at what speed.
The Oreck DualMax air purifier, also a finalist in the Home Environment Appliances category, features two fans that produce twice as much airflow as Oreck's historical top selling air purifier. Recommended for rooms up to 200 square feet, it has a CADR (clean air delivery rate) of 130.** It features Oreck's patented Truman Cell® filtration system, which captures pet dander, cigarette smoke, pollen, dust and other allergens that pass through the filter, pulling them out of the air like a magnet. The DualMax air purifier also features a high-efficiency odor absorber which reduces common household odors as well as chemical fumes such as paint smells, the gases put off from new rugs and furniture, aerosol vapors and cleaning supply odors from the air that passes through its filter. Both the Truman Cell® and its odor absorber filter are permanent and never need replacing.
An independent panel of judges selected the Magnesium, AirInstinct and DualMax as finalists based on each product's superior design, appearance, function and originality. The Housewares Design Awards are presented by HomeWorld Business and sponsored by the New York International Gift Fair®, Gourmet Insider Magazine and Whitford Corporation. Product submission and judging process is managed by the International Housewares Association (IHA). For more information, visit http://www.housewaresdesignawards.com.
For more information about the Oreck Magnesium, AirInstinct 200 and DualMax visit http://www.oreck.com.

Particle reduction and air circulation depend on many factors. All air in a room may not pass through the filter.
**Based on ANSI/AHAM AC-1, the Association of Home Appliance Manufacturers', certification program for room air cleaners.
About Oreck
Headquartered in Nashville, Tenn., Oreck Corporation is a leading manufacturer in the homecare industry, offering a variety of vacuum, air purification and other cleaning products. Oreck sells its products in hundreds of Oreck Clean Home Centers, direct to consumers, and through other leading retailers. The company distributes products in the U.S., Canada and parts of Europe. For more information, please visit http://www.oreck.com.
###