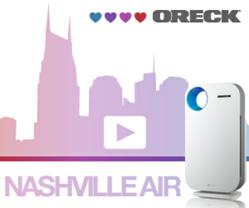 Nashville is a great city. It's home for our families, our hopes, our dreams. And just as the landmarks showcased in the video are integral to making our city a community, Oreck's goal is to make your home complete as well.
Doug Cahill, CEO, Oreck
Nashville, Tenn. (PRWEB) February 22, 2012
Music City-based Oreck Corporation invites locals and tourists alike to see Nashville from a new angle—through the travels of its newest air purifier, the AirInstinct™ 200. The Nashville Air video was shot at several iconic Nashville locations showing the AirInstinct™ 200 as both audience member and active participant.
Nashville Air takes viewers on a tour of Nashville landmarks through the perspective and presence of the Oreck AirInstinct™ 200 air purifier. The minute-and-a-half video invites viewers to "Love my Nashville, love my home, love my Oreck" by exploring the foundation that inspires and connects community, family and home.
"Nashville is a great city. It's home for our families, our hopes, our dreams. And just as the landmarks showcased in the video are integral to making our city a community, Oreck's goal is to help our customers make their home complete as well," says Doug Cahill, Oreck's Chief Executive Officer.
Nashville Air is being distributed through social media and digital channels. It can be viewed on YouTube at http://youtu.be/DIfp-McIG5I. Oreck premiered the video to Nashville bloggers the day before it was publically launched on February 17. Join the discussion on Twitter using the hash tag #oreckair.
The five Nashville locations featured in the video include:

The Frist Center for the Arts, where art from around the world is welcomed with open arms;
Legends Corner, where the music is live and the honky-tonk vibe inspires patrons to kick up their heels;
The Country Music Hall of Fame, keeper of our stories and heartaches;
Bridgestone Arena, where the hard-hitting Nashville Predators bring it for their fans;
And Schermerhorn Symphony Center which swells with harmonies that engage the community.
About Oreck
Headquartered in Nashville, Tenn., Oreck Corporation is a leading manufacturer in the homecare industry, offering a variety of vacuum, air purification and other cleaning products. Oreck sells its products in hundreds of Oreck Clean Home Centers, direct to consumers and through other leading retailers. The company distributes products in the U.S., Canada and parts of Europe. For more information, please visit http://www.oreck.com.
###