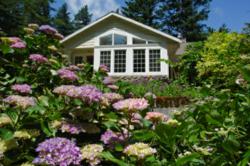 With the assistance of an FHA loan, boomerang buyers who tap into this market could not only recoup what they lost financially during the recession, but end up with an investment that yields long-term dividends.
Portland, Oregon (PRWEB) June 04, 2013
Best Rate Home Loans, a national Internet network of professional lenders approved to work with loans from the Federal Housing Agency (FHA), reports that potential Oregon home buyers who have been through a short sale or foreclosure and are eligible to get back into the homeowners market can jump on the boomerang buyer bandwagon and save an average of $57,000 on the median price of a home if it has recently been foreclosed on. This news comes in light of a recent analytics report that sees a huge disparity between the sales price of foreclosed homes and that of so-called "non-distressed" homes in Oregon at a time when inventory of foreclosed homes is dropping drastically—all signals that there is a fantastic opportunity to save huge on Oregon homes, but that the window of time in which to do so is becoming increasingly slim.
The most recent report from analytics company RealtyTrac saw the median sales value of Portland homes in March 2013 at $209,900 for non-distressed homes and $153,000 for foreclosure homes. That's a 27 percent price difference between the two home classifications, which amounts to a foreclosure discount of $56,900 on average. What makes this news timely for those who had to foreclose or short sell a home at least three years ago but have recovered financially since, is that with the assistance of an FHA loan, that three-year wait and a recovered financial standing could spell eligibility to re-enter the Oregon homeowner market at an incredibly buyer-friendly time. What's more, FHA-eligible boomerang buyers—a term that describes a previous homeowner's ability to swing back into the market following a short sale or foreclosure—are saving nearly $60,000 on top-tier homes that are underpriced simply because their previous owner fell on hard times.
CLICK HERE to check FHA eligibility.
Another reason why boomerang buyers would be advised to act quickly on Oregon FHA purchasing is due to the rapidly decreasing inventory of foreclosure homes, with that RealtyTrac report seeing the amount of foreclosure filings for April 2013 at 46 percent lower statewide than around the same time last year. This is in large part due to measures that the Obama administration has taken to help underwater borrowers refinance into a better mortgage plan, and with options like the Home Affordable Refinance Program seeing exponential growth in the last year, Oregon boomerang borrowers looking to scoop up a piece of the underpriced foreclosure market should be aware of the likelihood that this phenomenon will not be long-lived.
But why an FHA loan rather than one from a conventional lender? The answer is manifold: Current Oregon FHA mortgage rates are extremely low, as are downpayment rates, which start at 3.5 percent, as opposed to the typical 20 percent down required by a conventional lender. This could mean a $5,355 down payment on the median foreclosure sale price of an Oregon home through an FHA loan, versus $30,600 through a conventional lender. And when you add in that many boomerang buyers aren't even eligible through conventional lenders—who often require seven years between a foreclosure and a new purchase versus the FHA's three-year wait—it's clear why FHA loans are a popular option for Oregon borrowers.
"The amount of savings that Oregon borrowers can reap simply by electing to buy a home with the often meaningless blight on its history of 'foreclosure home' is truly remarkable," says Chad Scott, Broker/Owner of The Mortgage Money Source, an FHA approved lender in Oregon. "And with the assistance of an FHA loan, boomerang buyers who tap into this market could not only recoup what they lost financially during the recession, but end up with an investment that yields long-term dividends."
About FHA loans:
Over 34 million homes have been insured by the FHA since it was formed in 1934.
Home loans from the FHA appeal to a wide range of home buyers in that they offer low down payment rates, easy credit standards and more diverse income calculations than the strict underwriting laws that exist in conventional mortgages.
FHA-loan perks:
Down payment starting at 3.5 percent
Lower credit scores accepted than with conventional lenders
Streamlined refinance plan
All-in-one home renewals
Click Here to apply for an FHA Loan.
Best Rate Home Loans is a national professional network of approved mortgage lenders and loan providers with expertise in FHA loans and other low down payment or streamlined refinance plans. For more details on the Boomerang Home Buyer Program, call 888-269-5585.