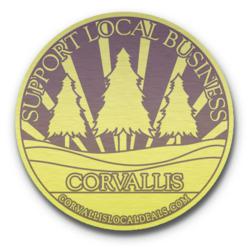 We don't want to see local businesses miss out on sales, or worse yet, have a local consumer miss out on doing business with a longstanding local merchant because the businesses' website doesn't come up on their smartphone.
Corvallis, OR (PRWEB) November 29, 2012
In many areas of the country, consumers are shopping for local deals on holiday items and everyday purchases. In Corvallis, Oregon, two local companies, iAmLocal.org and Corvallis Local Deals, are aligning their efforts to make sure that local businesses have the resources they need to offer savings and specials that target consumers with mobile devices.
December 4th marks the 16th anniversary of the first Internet-enabled phone. The AT&T PocketNet Phone never actually went into wide scale production, but it foreshadowed what would soon be commonplace. "The PocketNet Phone was the first of its kind, it was huge compared to modern smartphones," says Anthony Veltri, co-founder of Corvallis Local Deals. "At the time it was a truly amazing innovation, but I don't think many people imagined that 16 years later we would be so attached to our smartphones." In the past 16 years, smartphones and other mobile devices have become as powerful as they are ubiquitous. A 2012 pewinternet.org survey showed that 63% of all Americans access the internet wirelessly, with the usage jumping to 88% among the 18-29 age group.
"Even anecdotally, it is possible to observe an increase in the usage of mobile devices. All one needs to to is take note of people using their smartphones in coffee shops, in stores, or even to find the answers to trivia night questions," says Veltri. "Widespread adaptation to the mobile consumer by businesses is another story. Business response to the need for mobile-friendly sites is a mixed bag. The single biggest mistake business owners make is that they fail to realize that they are not their customer... Just because a business owner does not use a smartphone to search for services does not mean their customers do not. We don't want to see local businesses miss out on sales, or worse yet, have a local consumer miss out on doing business with a longstanding local merchant because the businesses' website doesn't come up on their smartphone."
To this end, Corvallis Local Deals and iAmLocal.org are working to bolster the efforts of the Corvallis Independent Business Alliance's December 1st, 2012 "Shop Local' campaign to make sure local businesses are equipped to serve the needs of their mobile-savvy customers. "Dozens of local businesses have advertised products and sales online at http://www.iamlocal.org with more appearing every day," says Chris Scaffidi, founder of iAmLocal.org. Both Corvallis Local Deals and iAmLocal.org want to focus on utilizing the technology to build community. "The goal is to build the relationship between business and customer. At one end of the scale, we want to encourage a business to market valuable and educational messages, and at the other end, we want to make sure that customers are not using deals to turn local businesses into commodities," says Veltri.
Corvallis Local Deals and iAmLocal.org offer a variety of mobile services at no or low cost to locally-owned businesses to include one-on-one mobile marketing strategy sessions designed to kickstart a businesses efforts to serve the mobile consumer.
Some tips that both companies have for local businesses with respect to connecting to their smartphone-savvy shoppers are:
1: Don't print out brochures or other printed material without a "quick response" or QR code on them. QR Codes are two-dimensional bar codes that are easily scanned using any modern mobile phone; they were originally invented by auto manufacturers to track cars on the production line, but have since been used by savvy consumers and businesses alike. "The biggest mistake companies make with QR codes is not having them, the second biggest mistake they make is using static QR codes rather than ones that can be changed over time, we strive to make sure local businesses navigate both pitfalls," says Veltri.
2: With the rising number of smartphone-savvy shoppers on the rise, it is important to make sure that customers who search for or browse your site on their mobile device are presented with a usable, mobile-friendly version of the site. According to Veltri, "Mobile-friendly sites are becoming essential to providing good customer service. This is especially important for businesses who have emergency contact information such as medical or veterinary offices whose customers may need to contact them from the road."
Visit CorvallisLocalDeals.com and IAmLocal.org to see how these sites can help area consumers save money.
For more tips, businesses can visit the Corvallis Deals business resource page for more info on setting up a free consultation.