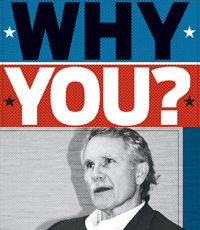 "We decided to bypass the usual media filters of reporters, spin doctors, and pundits and offer simple face-to-face conversations between the candidates and Oregon businesspeople and civic leaders." —Randy Gragg, editor in chief, Portland Monthly
Portland, OR (PRWEB) March 24, 2010
The four front-runners vying to be Oregon's next governor span the ideological spectrum, from Democrat to Republican and idealist to pragmatist. But they share one inarguable similarity: they're all men. With the May 4 primary election approaching, the editors of Portland Monthly asked four of Oregon's most influential civic and business leaders, all women, to interview Bill Bradbury, John Kitzhaber, Allen Alley, and Chris Dudley. Get beyond the sound bites: read the results of their challenging conversations, available only in the April issue of Portland Monthly. Plus, find video clips, audio downloads, and complete transcripts at portlandmonthlymag.com.
The panel members were Judy Peppler, Oregon president of Qwest; Karla Chambers, co-owner of Stahlbush Island Farms and member of the board of the Federal Reserve Bank of San Francisco; Maria Wulff, executive director of the World Affairs Council of Oregon; and Orcilia Forbes, longtime educator and current chairwoman of the board of Meyer Memorial Trust.
The panel's incisive questions parse the candidates' varying views on job creation, tax reform, education, energy, the environment, and Oregon's looming fiscal crisis. But the intimate, free-flowing conversations also reveal the philosophies and leadership styles of the men who would be Oregon's next governor—Bradbury's idealism about education; Kitzhaber's belief that the current crisis presents the best opportunity to redesign government; Alley's desire to apply business principles to governing; and Dudley's tough-love approach to cost-cutting.
The April issue will be available on newsstands March 26, 2010.
To learn more about Portland Monthly magazine, visit portlandmonthlymag.com
About Portland Monthly:
Portland Monthly, one of the nation's leading city magazines, provides readers with information about all aspects of life in Portland, Oregon. Portland Monthly is published by SagaCity Media Inc, a multimedia company that strives to create a community by providing an authoritative voice on the issues that matter to the Northwest.
###