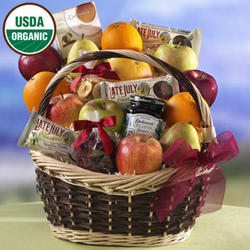 Medford, OR (PRWEB) February 7, 2011
Harry & David, America's gift experts for over 75 years, promotes healthy lifestyles by offering organic fruit gift baskets, including our organic Fruit-of-the-Month Club®.
Enjoy fresh and juicy fruit from our pesticide-free, organic fruit gift baskets, such as the Harry & David classic Organic Fruit Gift Basket. This basket is extra special and holds a dozen different fruits and treats that will please anyone's taste buds. Feast on organic oranges, red grapefruit, pears and three varieties of apples. Organic banana chips, blueberry spread, dried cranberries, vanilla bean and chocolate sandwich cookies and spiced pear tea are also included. Recipients are sure to love this bountiful, naturally delicious organic fruit gift basket.
Love Harry & David's fresh fruit but want to go organic? Try one of our organic fruit gift baskets, like the Organic Light Size Triple Treat® Collection. It's the perfect gift for smaller households, and this gift lets recipients experience our organic Royal Riviera® Pears, sweet navel oranges and crisp apples. Send this gift to family and friends and let them indulge in GMO-free, naturally grown fruits.
Incorporating organic fruit and vegetables into each meal is an easy, yet important, way to achieve a healthy lifestyle. Let Harry & David help with our organic fruit gift baskets and organic Fruit-of-the-Month clubs. Our 3-Month Organic Fruit-of-the-Month Club® is the perfect gift for those striving to lead healthier lives. Starting in February, recipients will get a different organic fruit each month. Anyone who appreciates nature's best will go bananas over our irresistibly sweet oranges, grapefruit, pineapple and more. Best of all, there are no delivery charges on Harry & David's monthly clubs – try one today.
All orders are backed by a 100% guarantee. If those who receive our organic fruit gift baskets are not fully satisfied, Harry & David will provide either an appropriate replacement or a full refund. Visit http://www.harryanddavid.com for more information.
For the latest updates and news from Harry & David, join our Facebook fan page, http://www.facebook.com/HarryandDavid, or find us on Twitter using @HarryandDavid.
Harry & David is a leading lifestyle and gourmet gift company that brings joy and celebration to the way people connect, work and play. With a 75-year reputation for genuine farm-to-table freshness and unsurpassed artisanal quality, Harry & David is legendary for products such as the Fruit-of-the-Month Club® gifts, featuring top-quality fruit, pampered on the tree, picked at its peak; Royal Riviera® Pears, prized for their lush juiciness, melting texture and exquisite flavor; Oregold® Peaches, the biggest, juiciest, sweetest-tasting peaches; and Moose Munch® gourmet caramel popcorn made exclusively in our own confectionery in flavors for everyone, from Milk Chocolate and White Chocolate Macadamia Nut to S'Mores. The Harry and David catalog offers a wide variety of gift baskets, organic fruit gifts, gourmet treats, chocolate gifts and business gifts for every occasion. Gifts from Harry & David, and its brands Cushman's and Wolferman's, are designed for festive occasions, entertaining and self enjoyment throughout the year. Through its stores, catalogs, websites and select retail partners, Harry & David offers an affordable "best-of-class" experience as part of everyday life. Happiness Delivered!
(Harry & David is a trademark, service mark and DBA of Harry and David)
###