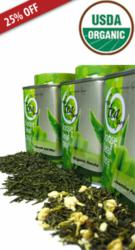 Boulder, Colorado (PRWEB) January 31, 2012
The Tea Spot announces today the addition of a new certified Organic green tea set — an Organic version of their popular "Secret of the Skinny" gift set — available now exclusively online at theteaspot.com for 25% off as Organic Skinny Teas.
For those looking to reduce their abdominal paunch for the New Year and the upcoming bikini season, green tea is becoming a popular choice. Even Dr. Oz, Oprah's wellness guru, recommended recently that "you should drink about four cups of green or white tea a day". All the recent twitter around tea and weight loss has makes this natural product something everyone is looking to try for themselves. Loose green tea is a natural appetite suppressant, and has been widely touted for its ability to assist your body in inhibiting the production of fat cells. Green tea provides a boost to exercise-induced weight loss, further stimulating the destruction of fat through exercise.
The Tea Spot's most popular tea gift set to date, "Secret of the Skinny", is a collection of three premium green and white whole leaf teas specially selected for tea drinkers who are looking to suppress their appetite and boost their metabolism. Now tea drinkers who are looking for teas for weight management have a 100% Certified Organic option with The Tea Spot's new "Organic Skinny Teas" collection of three loose green teas.
The Tea Spot's CEO, Maria Uspenski, noted "Our Organic Skinny Teas gift set is a natural extension of our ever growing collection of exquisite green teas. Getting into the habit of drinking fresh loose leaf tea will help you stay with your diet, because the new and delicious taste will remind you of your new commitment. It's a good way of mixing the necessary with the enjoyable – and how often can you say that about dieting?"
The three organic whole leaf green teas included in the "Organic Skinny Teas" tea gift set are:
Jasmine Petals organic green tea - organic green tea leaves blended with organic jasmine flower petals creating an aromatherapeutic experience. Tasting notes from their tea blender state that "a smooth, delicate liquor is produced from these rich green tea leaves".
Clouds and Mist organic green tea, also known as Yunwu - an assertive and smoky green tea that develops over time to a soft and buttery finish. Tasting notes state that "its earthy taste, reminiscent of sweet, roasted artichokes, is well-rounded, with a slight note of toasted pecans."
Sencha organic green tea – a traditional green tea with flat, dark green tea leaves with a balanced flavor profile reminiscent of fresh cut grass and seaweed. Tasting notes state that "the medium-light body of its infusion results in a slightly sweet flavor that endures long after you're done sipping."
ABOUT THE TEA SPOT: The Tea Spot is a for-profit philanthropic business producing handcrafted loose leaf teas and Steepware® - the tools that make loose tea easy. The Boulder, Colorado-based woman owned and operated company was founded by Maria Uspenski in 2004. A cancer survivor drawn to the health benefits of leaf tea during her recovery, she set forth to modernize the loose leaf tea experience. Her message is simple and powerful: tea in its freshest form renders incredible flavor, unmatched health benefits, and is eco-friendly. The Tea Spot is a Certified B Corporation and ensures that its products uphold clean, sustainable and fair manufacturing standards. The company's model of social entrepreneurship incorporates a culture of giving as it grows: ten percent of every sale made is donated in-kind to cancer and community wellness programs.
###