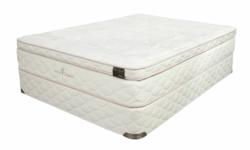 Take the plunge and choose organic. The eco refresh bed mattress invites you to rest in a hypoallergenic, chemical free-comfort
Berkeley, CA (Vocus/PRWEB) July 22, 2011
Ergo Sleep Systems Bay Area mattress store is now offering new mattresses using organic materials that are safe for the environment and can help a person get a restful night of sleep. These organic mattresses, made from certified organic latex, are available right now exclusively at the Ergo Sleep Systems location in Berkeley. Think of it as a "green" mattress. Ergo has kept their commitment to offering only the finest brands.
The latex is finally certified organic with no chemical materials/fillers added, resulting in a superior mattress for all ages. Ergo Sleep Systems new organic mattress will carry Eco Revive and Eco Refresh from Natura Brand. All queen size mattresses in the line are made with eight pounds of 100 percent organic wool, which translates to saving two acres of land from pesticides and other agricultural chemicals for at least four years.
"Take the plunge and choose organic. The eco refresh bed mattress invites you to rest in a hypoallergenic, chemical free-comfort. Certified organic cotton and NaturaGrow wool creates a soothingly fresh, off-gassing free soft place to fall at the end of your busy day," said Leonard Laxamana of Ergo Sleep Systems.
The organic mattresses are very durable, eco-friendly and good for orthopedic purposes. The Natura Brand has always been the number one producing company of safe, clean, green and organic mattresses in the City of San Francisco.
For more information on the Eco Sleep system, foam mattresses or any other product, please visit Ergo Sleep Systems' website at http://www.ergosleepsystems-bayarea.com/ or call (510) 984-3963. The store is located at 801 Deleware Street, Berkeley CA 94710.
About Ergo Sleep Systems
Ergo Sleep Systems Bay Area bed mattresses and green mattresses have a combined 40 years of experience in mattress sales and giving current innovations in the field to its loyal customers. Our focus has always been to help people make informed purchase decisions as they create a sustainable green bedroom and home. Ergo has researched each and every one of these brands, in most cases visiting their factories to inspect materials and production quality. The mattress store specializes in providing wide range of products from the leading industry brands that helps in giving the best sleep as this is the foundation of a healthy and active life.
###