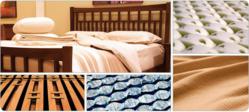 Essentially what we're saying is that increased bedtime can act as a pain-alleviating drug
Berkeley, CA (Vocus/PRWEB) July 05, 2011
Everyone knows that pain prevents people from falling asleep. Less obvious is the opposite correlation: shallow, disrupted sleep actually increases our sensitivity to pain. European Sleep Works, a mattress company located in Berkeley, advises people on the causes of the constant feedback loop of pain and sleepless nights and ways to get a good night's sleep.
The Henry Ford Health System Sleep Disorders and Research Center in Detroit recently conducted a study in which they woke a group of healthy, pain-free subjects at different intervals during the night—after eight hours, four hours, two hours or zero hours of sleep. The researchers tested the subjects' sensitivity to high heat applied to a fingertip. The subjects allowed to sleep through the night were able to hold their finger to the heat longer than the subjects who were prematurely woken, indicating a correlation between sleep and a higher tolerance for pain.
"Essentially what we're saying is that increased bedtime can act as a pain-alleviating drug," said lead researcher Professor Timothy Roehrs.
Pain and poor sleep have a bidirectional correlation. That means that pain disturbs sleep and disturbed or shortened sleep worsens pain. Accumulated sleep loss relates to increased sensitivity to chronic pain. Surveys completed by chronic pain sufferers revealed that 65 percent of participants were woken in the middle of the night by pain and 62 percent reported waking too early due to pain and being unable to get back to sleep again.
The National Sleep Foundation describes the ways pain-induced sleep interruptions manifest themselves. Difficulty falling asleep, waking in the night, waking too early and non-restorative sleep all count as interrupted sleep.
European Sleep Works sells some quality mattresses that can help achieve a good night's sleep; however they advise that a mattress is not a magic bullet. A mattress won't cure severe health problems, however, it is a fact that a mattress of low or even mediocre quality can make an already painful problem worse. On the other hand, a supportive mattress—built correctly with high-quality materials—can help people sleep better, thus reducing pain. European Sleep Works has created a variety of solutions to help customers who come to us with complaints of chronic pain.
First, and most importantly, a European Sleep Work mattress feels good and is built to stay that way years after the original purchase. The European Sleep Works customized adjustable slat system offers responsive and gentle support down the length of the body in all sleep positions.
The mattresses feature special honeycomb coils. That means 1,300-2,800 coils per queen-sized bed, compared to the 700-1,000 coils found in a typical mattress. Using this many coils helps provide better overall support and reduce pressure points, allowing for deeper sleep. The mattresses are cushioned with high quality, all-natural latex foam that cradles the body but won't break down after a short amount of time.
Also, in order to reduce surface tension, alleviate contact pressure and create better body mapping, all European Sleep Works mattresses are covered in organic stretch cotton covers. European Sleep Works uses only natural wool quilting for moisture transport and temperature regulation. Wool helps eliminate the discomfort that comes from dampness and overheating, which encourages deeper sleep.
For sleepers who need elevation, European Sleep Works also manufactures their own 100 percent natural latex sleep wedges that can be added to any European Sleep Works sleep system. For individuals who need maximum elevation, they also offer a motorized bed custom-made in Germany.
European Sleep Works strives to design mattresses with a purpose: to get out of sleep's way, alleviate as much discomfort as possible and create a greater tolerance for pain.
For more information, contact European Sleep Works at (510) 541-1175 or on the web at http://www.bestmattressbayarea.com or visit their store at 2966 Adeline in Berkley.
About European Sleep Works
European Sleep Works is an independent and locally owned mattress company based in Berkeley, serving the East Bay community and the wider Bay Area with the best mattresses. They are very Earth conscious and that is reflected in their large stock of green mattresses, eco-friendly beds, natural latex and organic mattresses.
###