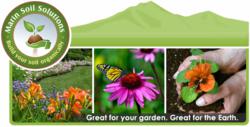 San Rafael, CA (Vocus/PRWEB) July 14, 2011
Marin Soil Solutions will be hosting a gardening and soil workshop called "Building Soil for Better Gardens." The programs will be presented by "The Soil Sisters," Linda and Norma Novy.
The first workshop will be held at the Marin Soil Solutions office at 3095 Kerner Blvd., Suite B in San Rafael on Sept. 17. The main focus of this training will be a comprehensive approach to "understanding soil" so that home gardeners are better able to improve and manage their edible and ornamental gardens. Other topics will include: building compost heaps, benefits of aerated compost tea, planting fall cover crops, and what cool season crops to plant in the fall. There will be a wide range of organic soil amendments, quality gardening tools, and vermicompost available for sale. The class will include lectures, power points, and demonstrations. Refreshments and great garden community networking!
The second workshop will be held at Fairfax on Sept. 24, focusing on field training and hands-on experience in the garden and soil. Class participants will learn how to assess a garden's state of health by reviewing its soil, biodiversity, plant vigor, and other factors; build a compost pile; make a mini-batch of aerated comfrey tea; set up a worm bin; and overview a fall gardening checklist. They will also learn how to start a cool season crops in containers, in ground, and in cold frames. Cover crop seeds and vermi-compost will be available for sale. Participants are encouraged to bring questions from their own gardens to both workshops.
Marin Soil Solutions workshops run from 9:30 a.m. to 2:30 p.m. and cost $150. The company will provide drinks and snacks, and participants may wish to bring a bag lunch. With this class registration, clients are eligible for a 20 percent discount on a Soil Sisters' coaching visit and soil analysis and interpretation.
For information and registration for the event, please visit http://www.gardenwiththesoilsisters.com. Or call Norma Novy at 415-499-9409. For general gardening information and services, please visit Marin Soil Solution's website at http://marinsoilsolutions.com/ or call (415) 488-5907.
About Marin Soil Solution
Marin Soil Solutions is owned and maintained by two Tom Bowen and Bill Falk. Both Tom and Bill are passionate about developing and maintaining excellent soils for the home garden and landscape. Their business provides a wide range of services, such as organic gardening. In the field, Marin Soil Solutions applies freshly brewed aerated compost tea, vermicompost, and soil amendments to correct nutritional deficiencies. In-store services include expert garden and soil management advice, and the opportunity to purchase a variety of organic soil amendments and quality garden tools. At their headquarters, you can see the compost tea brewer, and the large scale worm bin, too! Marin Soil Solutions can help you build the biology in your garden's soil which delivers many ecosystem benefits.
# # #