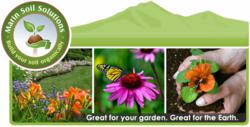 We are concerned to help you be successful, so we will spend considerable time on building your business.
San Rafael, CA (PRWEB) November 04, 2011
Tom Bowen and Bill Falk, owners of San Rafael organic gardening advocate Marin Soil Solutions in San Rafael, will be attending a 3-day Master Soil Consultants program at Earthfort and Soil Foodweb in Corvallis, OR on November 7-10. Participants of the training seminar will receive a Master Soil Consultant Certification.
The program is a practical, hands-on class to learn the information and be able to share it with others. It involves analyzing soil samples from clients, and a presentation to professors and class attendees to formulate a comprehensive soil remediation plan. Remediation may include the application of compost, mulch, soil amendments and/or customized aerated compost tea. The program will also feature a series of six to eight speakers from all areas of soil science that will include a Mycorrhizae PhD, Mycology expert, Analytical Labs PhD, Horticulture professor and community development manager.
"We are concerned to help you be successful, so we will spend considerable time on building your business. Another goal of the program is to expand a network of consultants. Our combined knowledge and experience is available to everyone in the network. When you are involved in the program, you will develop deep connections to others who share your passion." – Earthfort, organizers of the Certified Master Soil Consultant program.
For more information on San Rafael's Marin Soil Solutions and their natural lawn and garden care products, worm compost and organic fertilizers, call (415) 488-5907 or visit them online at http://www.marinsoilsolutions.com. Marin Soil Solutions is located at 3095 Kerner Blvd. #B San Rafael, CA 94901.
About Marin Soil Solutions
San Rafael organic soil company, Marin Soil Solutions was founded in 2010 by Tom Bowen and Bill Falk. They realized that good soil was the key to any success in their gardening efforts and started applications of compost and aerated compost tea. Realizing great results, they felt that other gardeners in Marin County would appreciate such a tool and welcome an updated spin on a time-tested soil improvement.
Marin Soil Solutions, located in San Rafael, provides unique products and services for advocates of natural gardening. These include a high quality aerated compost tea (like a liquid compost)to help gardeners re-establish much-needed soil biology, natural fertilizers, mycorrhizae, sea kelp, etc. The "liquid compost" is all-natural, safe, odorless and can be applied in minutes. With regular use of aerated compost tea, Marin gardeners will be able to employ an economical and natural process to invigorate their lawns, vegetable gardens, flower beds and houseplants. Benefits include balanced soil structure, healthier plants, healthy groundwater runoff and water savings.
# # #