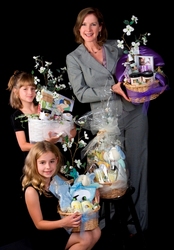 More and more women are sensitive to the carbon footprint a new baby adds to an already environmentally challenged Earth
Santa Clarita, CA (PRWEB) October 26, 2008
Ask anyone who has been to a baby shower recently what gifts received the most attention. You'll most likely hear about the bamboo fiber baby blankets, the organic cotton "onesies," the organic baby lotions and the colorful biodegradable diapers. They're even more impressed by the gift baskets that include these and other "green" products for baby. "More and more women are sensitive to the carbon footprint a new baby adds to an already environmentally challenged Earth," says Victoria Loveland-Coen, founder of LoveBlessings.com an online, eco-friendly baby gift basket company. "When a new mom either purchases or receives a gift that's eco-friendly and organic she feels less guilt about adding to the environmental burden. She also feels she's also doing something healthy for her baby."
In fact, a Roper poll taken in April of this year found that women and men identified having a baby as their primary motivation for protecting the environment. And, on this issue at least, we've got good celebrity mom role models like eco-conscious Laura Dern, Gwyneth Paltrow and Sheryl Crow who choose organic baby lotions and baby clothes made from sustainable fibers. This philosophy also carries over to the baby shower itself, as many expectant moms, like Sheryl Crow, want their entire baby shower to be eco-friendly from the non-paper, email invites to the botanical party favors.
Maybe that's why many so called "green" baby companies are sprouting up and actually making a go of it in this challenging economy. People are buying green and organic. Even traditional companies, like Gerber, are adding organic versions to their line. Also, many traditional gift basket companies are including organic cotton baby clothes in their basket repertoire. "We at LoveBlessings.com have simply decided to do organic exclusively. It makes good sense for the baby, the new mom, the environment and our bottom line." The company is now sharing their secrets to creating impressive, eco-friendly baby shower gift baskets in their new step-by-step instructional video just posted on YouTube. Watch it now: How to Make an Organic Gift Basket.
For more information, products samples, or to schedule an interview with Victoria Loveland-Coen, please call Victoria directly at 661-299-4538, or e-mail her at [email protected]
###