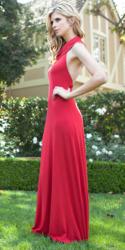 It's an honor to announce our opening on Earth Day.
Happy Valley, OR (PRWEB) April 22, 2013
Last year organic clothing boutique FaeriesDance.com moved from Los Angeles to a suburb of Portland, OR. The growing eco-fashion e-tailor needed more space and the high cost of Los Angeles real estate was hindering expansion. After an extensive search, a residential spot with a large lot, ample parking and a near perfect concrete slab from a previous garage was chosen for a custom-built structure.
FaeriesDance.com is now housed in a beautiful 1000 sq. ft. main level warehouse with office space and a showroom upstairs. Construction started last July and was planned to be complete by October 2012. Delays caused by outdated electrical on the lot pushed the completion to December. Right before the holiday rush, the official occupation permit came in. Adrienne Catone, FaeriesDance.com's owner, hoped to announce the official opening in January 2013, but between moving the inventory, maintenance issues with the main house on the property, and the final finishing touches, it took longer to get all settled in that anticipated. "After this long journey, it's an honor to announce our opening on Earth Day," says Ms. Catone.
The showroom area is designed to do triple duty as a photography studio for the organic clothing, space for extra computers and future employees, and an area for local customers to come by and try things on. "We ship to all 50 states and a dozen countries, but there are always a handful of local customers who'd love to try a few things on in person." explained Ms. Catone. So far, they've had one customer visit. "Everything wasn't set up yet, but we had our changing room and a clothing rack. She was very understanding and it was fun to interact in person."
They only expect a slow trickle of customers, just one or two a month perhaps. But the extra showroom space affords a lot of future flexibility to grow in whichever direction may be needed most.
About FaeriesDance.com
FaeriesDance.com is an eco-friendly e-tailer offering sustainable apparel and specializing in hard-to-find items such as organic cotton bras and lingerie. The company is named after the mythological woodland creatures that live in the heart of the forest, honor all things in nature, and who celebrate life with joyous abandon. In addition to providing beautiful organic clothing and eco-friendly accessories, FaeriesDance.com is committed to providing a complete environmentally-conscious shopping experience for its customers. Their clothing is made from sustainable fabrics and low-impact dyes. The company sources products from both U.S. and overseas manufacturers who ensure that all workers are treated fairly and are safe from sweatshop conditions. FaeriesDance.com has even gone to great lengths to provide consumers with environmentally sound gift wrapping options. They strive to help everyone "Go Green Right Down to Their Skivvies."