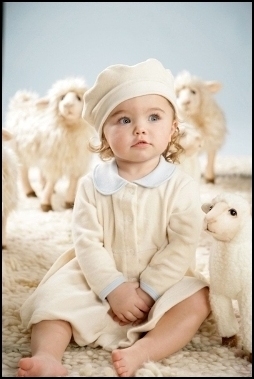 Knoxville, TN (PRWEB) August 21, 2006
Wooly Lamb Organics (http://www.woolylamborganics.com) will be introducing toddler sizes of "Nature Kids," its new line featuring nature-related themes. In addition, it will introduce toddler sizes in "Baby Basics," a popular collection of previously baby size-only mix-and-match basics in eight different fashion colors. The company will also introduce new baby and toddler collections featuring the whimsical and stylish designs for which it is known.
WHERE: MAGIC kids, Las Vegas Convention Center, 3150 Paradise Road, Las Vegas, NV. Booth: Number 10415, North Hall
WHEN: August 28-31, 2006
WHO: Sandra Marquardt, On the Mark Public Relations, 301-592-0077 (d) or 301- 512-4781 (c)
Knoxville, TN-based Wooly Lamb Organics launched its baby-focused organic cotton apparel lines just 4 months ago, in May 2006. The response has been tremendous, and its apparel lines are now sold in stores nationwide and on-line (including at http://www.woolylamborganics.com).
The company not only uses organic cotton grown in Texas, the largest organic cotton-growing state in the U.S., but also manufactures the apparel at its own plant in Helenwood, TN. In addition, Wooly Lamb Organics manufactures private label baby/toddler apparel for several other companies, with new inquiries for all sizes of apparel lines coming in everyday. Benefits these companies cite is their interest in supporting domestic apparel production and avoiding delays at the ports when importing from overseas.
According to the Organic Trade Association, U.S. and Canadian organic fiber consumer sales jumped 40 percent in 2005, amounting to $160 million. Infant clothing and diapers made up the second largest sector of the organic fiber product market, representing $40 million, or 25%, of the market and experiencing a 40% growth rate. Organic production is based on a system of farming that maintains and replenishes soil fertility without the use of toxic and persistent pesticides and fertilizers.
###