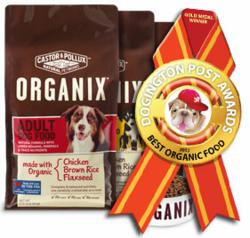 Castor & Pollux are among the very few pet food companies that have achieved USDA certification and manufacture their foods in certified organic facilities.
Boca Raton, FL (PRWEB) February 13, 2013
As part of a larger initiative to educate dog owners on proper nutrition, effective training, and other ways to raise a happy and healthy dog, the Dogington Post reviewed products, toys, food, treats and trainers for their first annual Dogington Post Awards of 2012.
"We used strict criteria when nominating companies and products for these awards," explained Brandy Arnold, Content Editor for Dogington Post. "Our Best Organic Dog Food nominees are among the very few pet food companies that have achieved USDA certification and manufacture their foods in certified organic facilities."
Readers and fans voted for the Best Organic Dog Food and chose Castor & Pollux Organix as their favorite.
Since their launch in 2000, Castor & Pollux has been a leader in the natural and organic pet food market. With the introduction of their Organix line of products in 2003, Castor & Pollux made top-quality, all natural, organic pet foods easily available to dog owners around the country. Their USDA Certified Organic manufacturing facility sources only the highest quality, organic ingredients produced without chemical pesticides, synthetic fertilizers, artificial preservatives, or added growth hormones or antibiotics. What's more, Castor & Pollux Organix recipes contain no corn or wheat, ingredients that are proven sensitive to many dogs.
"Truly organic dog food makes up a very small segment of the pet food category," Brandy said, "because manufacturers must meet very high standards in order to earn their USDA Organic certification. Additionally, Castor & Pollux has proven a commitment to supporting dog rescue organizations. The company has donated more than 3 million meals to dogs and cats."
In response to their Best Organic Food award, Greg Shearson, CEO of Merrick Pet Care, the makers of Castor & Pollux Organix said, "Dogington Post is amazing and we're honored to be nominated for their award. Keep up the great work for dogs and the people who love them."
Dogington Post reaches over 2.5 million dog lovers each week. The site's readers were asked to vote for their favorite organic dog food in an online contest that ran in January 2013.
"We are proud to announce Castor & Pollux Organix as the gold medal winner in our Best Organic Dog Food category," said Arnold. "Between their philosophy of providing the best quality food to pets and their dedication to animal welfare, nominating them was easy. Their loyal fans and happy customers gave them the award."
For more information about Dogington Post and their Dogington Post Awards, visit http://dogingtonpost.com.
About Dogington Post:
DogingtonPost.com was created for the love of dogs. It promises a forum of informative articles, newsworthy dog stories, health and breed information, and heartwarming videos. The site addresses current issues affecting dogs and their human parents – from serious health concerns to lifestyle issues on feeding, grooming and the overall well-being and mental health of dogs. It is the Internet newspaper, all about dogs.
About Castor & Pollux:
Castor & Pollux Natural PetWorks® is a leader in organic and natural products for dogs and cats. We are dedicated to uncompromised quality and are committed to feeding pets in need. Our featured product lines are ORGANIX® organic dog and cat foods and treats, Natural Ultramix® natural dog and cat foods and treats, and GOOD BUDDY® dog cookies. http://CastorPolluxPet.com