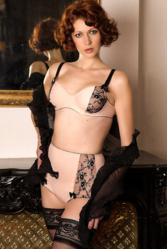 The organic cotton corset is eco, sexy and sweet all wrapped together.
Happy Valley, OR (PRWEB) July 25, 2012
For the last 5 years, FaeriesDance.com has been proud to carry a wide selection of eco-friendly lingerie from Europe. This month they've added a gorgeous new line of bras and panties from the French designer Peau-Ethique. To celebrate, they're giving away a free bra to one lucky winner. Visit their blog the Eco-Fashion Philosopher to enter by Sunday, July 29, 2012. FaeriesDance.com will give away a second bra free, one of their Italian designs, if they get to 300 Facebook "likes" before the end of the contest period, so be sure to Like them on Facebook to increase the prize pool.
The new lingerie line, Sublime, is a soft and feminine powder pink color with a touch of sexy black lace that makes a really stunning contrast. The bra options include a demi-cup, padded bra sized from A to C cups, an enveloping bra sized from B – DD cups and a delicate no wire bra for those who prefer a softer style. The 3 bra options are accompanied by 4 different panties including a retro, high-waisted brief for a classic 1950s pin-up look. The gem of the line is an organic cotton corset with a long array of hook-and-eye back closures. "The organic cotton corset is eco, sexy and sweet all wrapped together." says FaeriesDance.com's owner, Adrienne Catone.
The entire Sublime line is made from certified organic cotton fabric from Turkey. The sewing is done under Fair Trade standards; the dyes are low-impact, azo-free; and all of the Peau-Ethique garments are Global Organic Textile Standard (GOTS) Certified.
About FaeriesDance.com
FaeriesDance.com is an eco-friendly e-tailer offering sustainable apparel and specializing in hard-to-find items such as organic cotton bras and lingerie. The company is named after the mythological woodland creatures that live in the heart of the forest, honor all things in nature, and who celebrate life with joyous abandon. In addition to providing beautiful organic clothing and eco-friendly accessories, FaeriesDance.com is committed to providing a complete environmentally-conscious shopping experience for its customers. Their clothing is made from sustainable fabrics and low-impact dyes. The company sources products from both U.S. and overseas manufacturers who ensure that all workers are treated fairly and are safe from sweatshop conditions. FaeriesDance.com has even gone to great lengths to provide consumers with environmentally sound gift wrapping options. They strive to help everyone "Go Green Right Down to Their Skivvies."