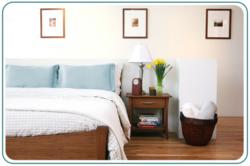 Fort Collins, CO (PRWEB) October 12, 2011
With the ever-growing demand for "green" and healthy products, organic mattresses have been gaining popularity. Made from organic cotton, organic wool, and natural latex, many people choose an organic mattress in an effort to be eco-friendly and to create a healthy sleeping environment.
Natural latex is collected from a rubber tree much like maple syrup is collected from a maple tree. The latex can be collected from the rubber tree for about 25 years. Once it's reached the end of its life cycle, the tree is cut down, the wood is used for furniture, and another tree is planted in its place. Until recently, there were no certified organic rubber tree plantations. Now, the plantation that Bella Sera Organics acquires natural latex from has met the stringent USDA guidelines for organic certification.
Compared to conventional mattresses that contain synthetics such as polyurethane and polyester, as well as chemical flame retardants, natural latex is still a healthy and sustainable option. However, for those who want the extra assurance that their organic mattress does not contain pesticides or chemical residues, this new organic certification will offer peace of mind.
Kim from The Natural Sleep Store states, "We sell a lot of natural and organic latex mattresses, and Bella Sera organic mattresses are very popular. With the inclusion of the organic latex certification, I expect Bella Sera Organics to emerge as our top seller in 2011."
###