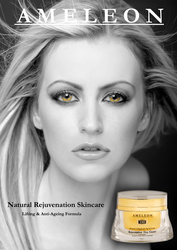 Come and get organic cream no more Botox-needles
Portland, OR (PRWEB) December 14, 2007
"Come and get organic cream no more Botox-needles", said president of AMELEON USA, Erik Nilsson, earlier today when he announced the grand opening of their on-line store at http://www.ameleonusa.com.
This British made organic skincare line of products is based upon a 6th generation recipe all the ingredients are researched to ensure they come from farms free from pesticides and chemicals no synthetic or artificial colors or fragrance is used in the manufacturing process and is completely natural and hypoallergenic.
"What I find to be extraordinary is that 99% of all cosmetic brands take up to a matter of hours to produce, whereas the AMELEON brand can take up to 6 months to produce" Nilsson explained." He further said, it is similar to producing a fine wine, everything is all hand made and you can see the love and passion expressed in the work, each one produced and handled as if it was a fine work of art, no rush nor push in the production, what we produce is what is available. We consider our brand to be perfection and perfection can not be hurried.
"I have never seen such devotion and love put into creating any product." AMELEON is certainly unique, I can assure you that the product will be appreciated by those, who truly appreciate and recognize style, elegance and quality.
AMELEON is also been used by cosmetic surgeons who recommend the brand to their patients prior to surgery to get the skin completely rejuvenated and healthy prior to surgery thus enabling better cosmetic results and healing, it is also recommended after surgery in order to maintain the new look. It seems that AMELEON is not just a pretty face!
AMELEON is by far the best and most honest cosmetic beauty product on the market, it is stylish, elegant, value for money and actually performs, our formulas are rich and effective, they are on par and in many cases surpass the very top French, Italian, German and Swiss brands, till now there has not been any brand that can match the top European brands, now there is, AMELEON.
The organic skincare manufacturer opened their doors in Portland, Oregon USA in September 2007 and is already creating a buzz with users. The products rapidly reduces appearance of scars it reduces and even removes blemished and pigmentations in addition they completely rejuvenate the skin and spun the growth of new skin cells within 12-48 hours after application.
We are new here in the United States and with our website precense it is logic that we also offer our U.S. clients the luxury of home delivery right from our web-site, said the Nilsson.
As a grand-opening promotion, AMELEON is offering free shipping, of the entire product line, to all United States customers.
Our 100% organic, eco-friendly products are available for men and women and have especially been a success in day spas. "Personally, I use the Advanced Scalp & Hair Reviver (http://www.ameleonusa.com/mus01.html) that comes in an easy pump bottle" said Nilsson. "It nourishes and moisturizes the scalp plus it promotes healthy and stronger hair growth by as much as 27%" Nilsson, said. To top it off, this product is so concentrated that a pee size droplet goes a long way.
Customers appreciate our environmental conscious packaging and shipping process. Our products are filled in recycled glass and plastic, packed in recycled cardboard and never packaged in bubble-wrap or peanuts, thus awarding AMELEON their very own tag-line: The Natural Way.
Fight the signs of aging, minimize the appearance of fine and deeper expression lines while your skin is restoring its cells you can do all of this the AMELEON way or as we like to say The Natural Way.
Visit the new AMELEON on-line store at: http://www.ameleonusa.com Customer service number: 877-326-8821 or via fax: 503-914-1879 "AMELEON® The Natural Way"
###