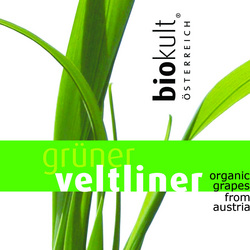 Our buyers literally search the globe for the snazziest, zippiest, tangiest and tastiest wines they can find, and we stack them on our sales floors, sample them with our shoppers where possible, and, of course, buy them ourselves and drink them all summer long
Grants Pass, OR. (PRWEB) July 1, 2009
Natural Merchants, LLC, with headquarters in Grants Pass, Ore. and Cartagena, Spain, introduces Biokult Brand Grüner Veltliner to national distribution in the United States through an agreement with Whole Foods Markets.
Introduced in June and given the honor as one of Whole Foods Market's "Top Ten Summer Wines," Biokult Brand Grüner Veltliner, made with organically grown grapes, is value priced at $11.99 throughout the Whole Foods network of stores. The wine received a Silver Medal in Tastings.com World Wine Championship Awards, given a Best Buy rating with 87 points (Highly Recommended).
WholeFoods.com tasting notes describe the wine as: "Austria's 'Gru-Vee' White is a groovy delight with a light zesty flavor and hints of cracked pepper and prairie grass. Clean acidity and a soft seductive finish make this an enchanting apéritif or versatile sidekick for spicy dishes, grilled seafood, burgers, pizza or Whole Foods Market® Organic Fresh Goat Cheese."
"Our buyers literally search the globe for the snazziest, zippiest, tangiest and tastiest wines they can find, and we stack them on our sales floors, sample them with our shoppers where possible, and, of course, buy them ourselves and drink them all summer long," says Whole Foods Market's "Wine Guys" Geof Ryan and Doug Bell on the Whole Story blog. For more on the Whole Foods Top Ten Summer Wines visit:
Whole Foods Top Ten Summer Wines.
About the Biokult Brand
The Biokult Brand is produced by the Michlits family, one of the most creative and influential organic wine growing families in Austria. Their products and their production methods are revolutionary for the region. Not only have they been able to understand and implement the use of non-trimmed vines in the region, but the use of biodynamic methods and the translation of these into new production standards are awe inspiring.
The family owned cattle herd of over 50 Angus beef combined with organic/biodynamic wheat production are the most important tools to improve the soils and the vines that grow on them. Over the last few years the soils have been able to regain their original vigor and diversity.
The Michlits family has understood the use of traditional winegrowing and winemaking techniques and has developed them in a modern ways. Their search for establishing the best conditions and thus letting nature do its best work for the wines without too much human intervention is very innovative and modern. The family has become a world-renowned producer of high quality organic wines from Austria.
About Natural Merchants
Natural Merchants, LLC is one of North America's leading Importers and Distributors of the finest natural and organic foods and wines direct from the European and Mediterranean regions. The Natural Merchants Selections program highlights more than 150 carefully selected wines from Spain, Italy, Austria, France and Portugal, grown in unique organic terroir, each vineyard producing clean, fresh superior wines that are both good for the earth and tantalizing for the palate. For more information visit http://www.naturalmerchants.com.
# # #