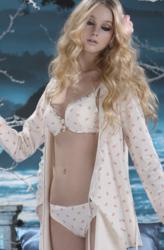 Wash all bras in cold water inside a lingerie bag.
Happy Valley, OR (PRWEB) January 15, 2013
With Valentine's Day just around the corner, eco-friendly bras and lingerie are high on the list of desired gifts, FaeriesDance.com offers up these 6 tips to keep natural fiber and organic bras looking great for years.
Tip 1: Remove any removable pads or cups before washing.
If the bra comes with removable pads, remove them before washing the bra so they don't lose their shape. Ideally the pads should be washed by hand separately, but if they must go in the machine, be sure to follow Tip 2.
Tip 2: Wash ALL bras in a lingerie bag.
The most important tip is to wash all bras (and also any panties that have lace on them) in cold water inside a lingerie bag. Even bras that claim to be machine washable can easily have their straps stretched and lace torn in a conventional machine. Snags from zippers or buttons of other clothing are also common. A simple lingerie bag will provide a layer of protection to avoid those common issues.
Tip 3: Don't put new bras in the dryer.
The dryer is a fairly harsh environment and even if it doesn't do any immediate damage to your bra, they will likely fray and wear faster if they are machine dried. So laying them flat to dry will add life to them.
Tip 4: Always buy bras so they fit on the loosest hook.
Most bras will stretch out over time, so buy them to fit on the loosest hook initially. As they lose shape and become looser, they can gradually be worn on tighter and tighter hooks to keep them fitting comfortably.
Tip 5: Use the dryer for older bras that have stretched.
If an older bra has stretched to the point where it can't be worn, the dryer may be used to extend its life. Most natural materials will shrink a tad in the dryer. If the bra has been dried flat and hasn't been in the dryer before, drying it for the first time after it has stretched too far can sometimes shrink it just enough to extend the wear a little longer.
Tip 6: Don't invert padded bras.
Many women will store their padded bras by inverting one cup into the other. This can lead to lumps and dimples in the padding, especially with bras made out of natural cotton padding instead of molded polyester. To avoid damaging the padding while still saving dresser space, twist the bra from the center so that both cups fit into each other without inverting one of them. It will help keep their shape longer.
Follow these few tips to get the longest wear out of natural fiber bras and lingerie.
About FaeriesDance.com
FaeriesDance.com is an eco-friendly e-tailer offering sustainable apparel and specializing in hard-to-find items such as organic cotton bras and lingerie. The company is named after the mythological woodland creatures that live in the heart of the forest, honor all things in nature, and who celebrate life with joyous abandon. In addition to providing beautiful organic clothing and eco-friendly accessories, FaeriesDance.com is committed to providing a complete environmentally-conscious shopping experience for its customers. Their clothing is made from sustainable fabrics and low-impact dyes. The company sources products from both U.S. and overseas manufacturers who ensure that all workers are treated fairly and are safe from sweatshop conditions. FaeriesDance.com has even gone to great lengths to provide consumers with environmentally sound gift wrapping options. They strive to help everyone "Go Green Right Down to Their Skivvies."