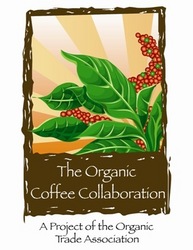 Consumers have spoken loud and clear
New York, NY (Vocus) July 21, 2009
The North American organic coffee market topped 1.3 billion dollars in 2008, making it the single most valuable organic product imported into North America, according to new data released today by coffee market analyst Daniele Giovannucci at a sampling event featuring delicious new crop organic coffees from leading U.S. roasters. The event was hosted by the Organic Coffee Collaboration, a project of the Organic Trade Association (OTA), at New York City's Union Square Cafe.
The ten participants in the Collaboration are Caffe Ibis (Logan, UT), Chiapas Farms (Austin, TX), Crimson Cup (Columbus, OH), Elan Organic Coffee (San Diego, CA), Equator Estate Coffees and Teas (San Rafael, CA), Green Mountain Coffee (Waterbury, VT), Maximus Coffee Group (Houston, TX), S&D Coffee (Concord, NC), Swiss Water Decaffeinated Coffee Company (Burnaby, BC, Canada), and True Origin Organics (Weston, FL and Bogotá, Colombia). These participants represent some of the newest companies on the market as well as well known firms that source, decaffeinate, or roast for the largest companies in the United States.
According to The North American Organic Coffee Industry Survey 2009 by Giovannucci (with support from the Specialty Coffee Association of America), approximately 89 million pounds of organic coffee were imported into the United States and Canada in 2008, a 12 percent increase from 2007, with most of the sales taking place in the U.S. The 29 percent annual average growth rate for the organic category documented by Giovannucci between 2000 and 2008 dwarfs the estimated 1.5 percent projected annual growth rate of the conventional coffee industry. The survey is available from the Organic Trade Association.
"Consumers have spoken loud and clear," said Christine Bushway, OTA executive director. "Consumers choose to support organic agriculture even when times get tough."
Giovannucci agrees. "Consumers are being more selective and increasingly moving toward products they perceive to provide real and lasting value, both personal and to the environment."
Union Square Cafe, which has earned Zagat Survey's #1 ranking as New York's Most Popular Restaurant for an unprecedented eight years, is one of the many restaurants and other food establishments across the U.S. offering organic coffees to their discriminating clientele.
Background:
Organic coffee is grown using methods and materials that have a low impact on the environment. Organic production systems replenish and maintain soil fertility, avoid the use of toxic and persistent pesticides and fertilizers, and build biologically diverse agriculture. Third-party certification organizations verify that organic farmers use only methods and materials allowed in organic production.
The Organic Coffee Collaboration - a project of the Organic Trade Association, the business association for the North American organic industry, includes:
CAFFE IBIS (Logan, UT) - An award-winning "green business," Caffe Ibis is a custom coffee roasting house featuring triple certified--organic, Fair Trade, and Smithsonian Shade Grown "Bird-Friendly®"- coffees, mountain grown, mountain roasted. Caffe Ibis® also operates a celebrated gallery/deli-licious espresso bar. University franchise, private label, equipment programs, monthly specials, and consulting services are available.
CHIAPAS FARMS (Austin, TX) - Chiapas Farms specializes in superior fair trade foods. Its Café de Chiapas coffee is from an organic/fair trade cooperative in the Chiapas, Mexico highlands. The coffee has a nutty and buttery taste with a smooth, slightly sweet finish. The product is offered in dark and medium roast and available online.
CRIMSON CUP (Columbus, OH) - Since 1991, Crimson Cup® Coffee & Tea has roasted and packaged great-tasting coffee in Columbus, Ohio. Led by Harvard "Crimson" graduate Greg Ubert, Crimson Cup offers a full line of certified organic Fair Trade coffee and teas to over 350 coffee houses, colleges and universities and grocers throughout 26 states.
ELAN ORGANIC COFFEES (San Diego, CA) - Elan Organic Coffees is a coffee developer and importer offering certified organic socially responsible and Bird Friendly® coffees it has developed through partnerships with village co-ops in coffee-producing countries. Elan has pioneered the supply of the world's finest certified organic coffees, while supporting farmers and protecting the environment.
EQUATOR ESTATE COFFEES & TEAS (San Rafael, CA) - Equator is known for its distinctive specialty coffees, socially responsible sourcing, and longstanding relationships with prominent chefs and national retailers who are passionate about quality. The women-owned company procures exceptional certified organic coffees from farmers who practice environmental stewardship, resulting in an empowered supply chain from crop to cup.
GREEN MOUNTAIN COFFEE (Waterbury, VT) - Green Mountain Coffee is recognized as a leader in the specialty coffee industry for its award-winning coffees and socially and environmentally responsible business practices. Green Mountain Coffee offers a broad selection of double-certified organic and Fair Trade coffees under the Green Mountain Coffee® and Newman's Own® Organics brands.
MAXIMUS COFFEE GROUP (Houston, TX) - Maximus Coffee Group's carbon dioxide (CO2) / triple-filtered water decaffeination process is the only decaffeination plant in the U.S. that supplies coffee that is both naturally decaffeinated and USDA Organic certified. It is an EPA Green Power Partner with one-third of its energy coming from alternative sources.
ORGANIC TRADE ASSOCIATION (Greenfield, MA) - OTA's mission is to promote and protect the growth of organic trade to benefit the environment, farmers, the public and the economy. OTA's members include farmers, processors, importers, distributors, retailers, certifiers, and more.
S&D COFFEE (Concord, NC) - S&D is the second largest coffee roaster in the United States supplying both conventional and organic coffees. The company feels strongly about fostering sustainable agriculture and promoting a healthy planet. Quality Assurance International (QAI) certifies S&D's six organic coffees sold under the Buffalo & Spring label.
SWISS WATER DECAFFEINATED COFFEE COMPANY (Burnaby, BC, Canada) - A wholesome process for decaffeinating coffee - pure water, 100% chemical free - ensures the best of the bean remains, while only caffeine is removed. Swiss Water decaffeinates organic coffees for premium roasters. Look for the SWISS WATER® seal on packs or in stores to guarantee remarkable tasting 99.9% caffeine-free coffee.
TRUE ORIGIN ORGANICS (Weston, FL and Bogotá, Colombia) - True Origin Organics premium Colombian coffee hails from the magnificent Santa Marta and Tierradentro valleys. Like fine wine, our coffee has one true origin. It is harvested, roasted and packed right where it grows. True Origins Organics is available at East Coast specialty and natural stores and mid-Atlantic Whole Foods Markets.
See http://www.ota.com/organic_and_you/coffee_collaboration.html for further information on the Organic Coffee Collaboration.
Contact: Sandra Marquardt
Tel: 301-592-0077, cell: 301-512-4781
###