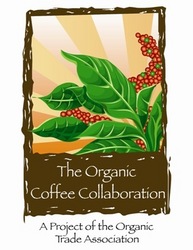 (Vocus) April 15, 2009
Leaders in the billion dollar organic coffee industry--participants in the Organic Coffee Collaboration, a project of the Organic Trade Association (OTA)--will be attending, hosting a booth, and speaking at the Specialty Coffee Association (SCAA) Annual Conference in Atlanta, GA, April 16-19. Speakers from Green Mountain Coffee will discuss issues of product integrity and social values regarding organic coffee production, while Elan Organic Coffees will host Booth 1413. In addition, the other four Collaboration participants--Caffe Ibis, Equator Estate Quality Coffees & Teas, Maximus Coffee Group, and Swiss Water Decaffeinated Coffee Company--will be busy networking at the event.
The North American organic coffee market reached one billion dollars in 2007, according to Daniele Giovannucci, author of the North American Organic Coffee Industry Survey. Most of the coffee was sold in the United States. The amount of organic coffee imported into the United States and Canada increased 29 percent from approximately 65 million pounds in 2006 to approximately 81 million pounds in 2007. The May 2008 survey is available from OTA.
Several organic coffees from farms in both El Salvador and Nicaragua won the Cup of Excellence competitions in those countries in 2008. The prestigious award program, managed by the U.S.-based Alliance for Coffee Excellence, selects the best coffees produced in a particular country in a particular year.
Where: The SCAA 21st Annual Conference and Exposition will take place at the Georgia World Congress Center in Atlanta, GA.
Contact: Sandra Marquardt, On the Mark Public Relations, tel: 301-592-0077
When: The conference runs from April 16-19, 2009. Green Mountain Coffee will be speaking on the following panels:
Friday, April 17:
10:30 a.m. - Noon. - Three approaches to sustainability
Saturday, April 18:
10:30 a.m. - Noon. - Using data systems to manage quality in the supply chain
Background:
Organic coffee is grown using methods and materials that have a low impact on the environment. Organic production systems replenish and maintain soil fertility, avoid the use of toxic and persistent pesticides and fertilizers, and build biologically diverse agriculture. Third-party certification organizations verify that organic farmers use only methods and materials allowed in organic production. Organic coffee is grown in approximately 40 countries, including the United States.
The Organic Coffee Collaboration - a project of the Organic Trade Association, the business association for the North American organic industry, includes:
Caffe Ibis Coffee Roasting Company (Logan, UT) - An award-winning "green business," Caffe Ibis is a custom coffee roasting house featuring triple certified--organic, Fair Trade, and Smithsonian Shade Grown "Bird-Friendly®"--coffees, mountain grown, mountain roasted. Caffe Ibis® also operates a celebrated gallery/deli-licious espresso bar. University franchise, private label, equipment programs, monthly specials, and consulting services are available.
Elan Organic Coffees (San Diego, CA) - Elan Organic Coffees is a coffee developer and importer offering certified organic socially responsible and shade-grown Bird Friendly® coffees it has developed through partnerships with village co-ops in coffee-producing countries. Elan has pioneered the supply of the world's finest certified organic coffees, while supporting farmers and protecting the environment.
Equator Estates (San Rafael, CA) - Equator is known for its distinctive specialty coffees, socially responsible sourcing, and longstanding relationships with prominent chefs and national retailers who are passionate about quality. The women-owned company procures exceptional certified organic coffees from farmers who practice environmental stewardship, resulting in an empowered supply chain from crop to cup.
Green Mountain Coffee (Waterbury, VT) - Green Mountain Coffee is recognized as a leader in the specialty coffee industry for its award-winning coffees and socially and environmentally responsible business practices. Green Mountain Coffee offers a broad selection of double-certified organic and Fair Trade coffees under the Green Mountain Coffee® and Newman's Own® Organics brands.
Maximus Coffee Group (Houston, TX) - Maximus Coffee Group's CO2 / triple-filtered water decaffeination process is the only decaffeination plant in the United States that supplies coffee that is both naturally decaffeinated and USDA Organic certified. It is an EPA Green Power Partner with one-third of its energy coming from alternative sources.
Swiss Water Decaffeinated Coffee Company (Vancouver, BC, Canada)
A wholesome process for decaffeinating coffee - pure water, 100% chemical free - ensures the best of the bean remains, while only caffeine is removed. Swiss Water decaffeinates organic coffees for premium roasters. Look for the SWISS WATER® seal on packs or in stores to guarantee remarkable tasting, 99.9% caffeine-free coffee.
See http://www.ota.com/organic_and_you/coffee_collaboration.html for further information on the Collaboration.
###