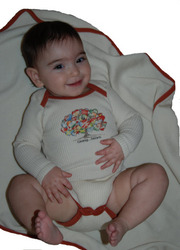 Do Dream, ... It's Possible
Baltimore, MD (PRWEB) April 22, 2009
Why should anyone be concerned about buying organic cotton rather than commercially grown cotton? The reasons are numerous -- certified organic cotton is grown without toxic pesticides or chemicals, so the air, water, and soil is not adversely affected. It's also healthier for the farmer, who isn't in contact with poisons. And of course, organic cotton is healthier for those wearing the fibers, as there are no harsh chemicals to irritate the skin.
In celebration of Earth Day, Live Life Organics has created a new line of eco-friendly onesies for babies. As with their eco-fashion for women, men and juniors, these onesies are 100% organic cotton with unique designs using low impact dyes. All shirts have positive, inspirational messages corresponding to the color of each shirt.
For example, the yellow tees and tank tops show the message "Do Dream, ... It's Possible", yellow signifying hope and optimism. The blue shirts display "Be Inspired ...Think Success", blue being the color designating inspiration, confidence, wisdom, and integrity. The red clay tee and pink shirts have appropriately corresponding designs.
Stephanie Lavner, the founder of Live Life Organics, states "Our products are unique in many ways. Besides being made from quality organic cotton, the positive messages are meant to inspire the finest qualities of the human spirit such as courage hope and compassion. They signify what our company stands for. We are about changing attitudes in a positive way to make the world a better place for us and generations to come. Our thoughts can have a profound impact on our actions and events".
Not being satisfied to stop with one organic product, the hang tag is also completely organic and embedded with wildflower seeds, which can be planted in either a pot or the garden and will bloom into delightful wildflowers.
Live Life Organics supports charitable giving. The most recent example of this is the onesies with the "Giving... hearts" design that were specially created in support of the Dr. Mani's Children Heart Foundation (http://www.chdinfo.com). Profits from these onesies are going to provide cardiac surgeries for children too poor to afford their necessary medical care. So in addition to doing something good for the earth and for the wearer, a child can have the chance for a full and productive life.
###