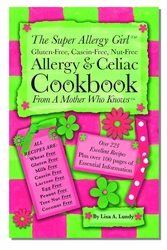 Buffalo, New York (Vocus) July 10, 2009
As more consumers are waking up to using food as a way to improve health, demand for organic foods is at an all time high. Consumers looking to save money on organic foods can watch a short video or download a tip sheet at http://www.thesuperallergycookbook.com for ideas on big savings offered by motivational speaker and specialty cookbook author Lisa A. Lundy. According to the U.S. Environmental Protection Agency, a government agency designated with leading the nation's environmental science, research, education and assessment efforts, there are more than 1,055 ingredients registered as pesticides, which are formulated into thousands of pesticide products available on the market. The EPA states:
"Pesticides may harm a developing child by blocking the absorption of important food nutrients necessary for normal healthy growth. Another way pesticides may cause harm is if a child's excretory system is not fully developed, the body may not fully remove pesticides. Also, there are 'critical periods' in human development when exposure to a toxin can permanently alter the way an individual's biological system operates."
Consumers looking for more resources and information on the damages pesticides cause to unborn babies, infants and children, the most vulnerable segments of the population, can find tip sheets and reports from the Environmental Working Group website. The Environmental Working Group (EWG) is a valuable non-profit organization whose mission is to use the power of public information to protect public health and the environment. The Foodnews.org website states: "Protecting our families' health from chemical exposures can start with minimizing children's exposure to pesticides. It is now well established that pesticides pose a risk to vital organ systems that continue to grow and mature from conception throughout infancy and childhood."
Historians state that pesticides have been used as far back as 5,000 years ago. The components used for pesticides back then were naturally occurring toxic chemicals such as arsenic, mercury and lead. The discovery by Paul Muller that DDT (dichlorodiphenyl-trichloroethane) was a very effective and inexpensive pesticide led to its increased use. Pesticide use has increased 50-fold since 1950. Some people refer to the 1940's and 1950's as the pesticide era. It was after Rachel Carson wrote a book called "Silent Spring" that a movement began to investigate the impact DDT and other pesticides on both human health and the environment.
Some consumers wonder if eating organic foods produce any health benefits. A study conducted by scientists at the University of Washington and published in Environmental Health Perspectives, a journal of the National Institutes of Health, did find that children fed predominantly organic produce and juice had only one-sixth the level of pesticide byproducts in their urine compared with children who ate conventionally farmed foods. While some parents will ultimately leave it up to the government to make foods safe for their families, a growing number of mothers are reaching for organic foods because they are proven to be safe. Ms. Lundy's 7-year-old daughter, Anne, requires organic foods because of a multitude of chronic and serious health issues.
Lundy's cookbook, ''The Super Allergy Girl™ Allergy & Celiac Cookbook - From A Mother Who Knows™'', is a gluten-free, casein-free, dairy-free, egg-free, peanut and tree-nut free and other allergen-free resource to help people on a gluten-free, GFCF diet, or allergy-restricted diet. Her book is available at http://www.TheSuperAllergyCookbook.com . Her website is loaded with free information to help consumers have a healthy life in the area of food and special diets, notably allergen-free diets and gluten-free and dairy-free diets. Her daughter has multiple life-threatening food allergies to milk, eggs, peanuts and treenuts and her second son has celiac disease and lactose intolerance. She is passionate about helping people understand how they can use changes in their diet to resolve a wide variety of health issues and about getting the nearly 3 million Americans diagnosed with celiac disease.
Size: 6" x 9"
Pages: 405 pages
Soft Cover, Perfect Bound
ISBN#: 978-0-9797542-0-3
Price: $28.95
Contact: Ms. Lisa Lundy
Phone: (716) 835-6392
e-mail: Lisa(at)theroostercrows(dot)com
###