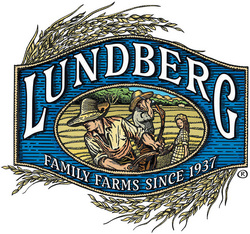 Richvale, CA (Vocus) July 1, 2010
Eldon Albert Lundberg, the eldest of four brothers who built Lundberg Family Farms into the nation's #1 producer of organic rice and rice products, died Saturday, June 26, 2010 in Richvale, California. He was 82 years old.
A native of Phelps County, Nebraska, Eldon Lundberg was born June 20, 1928 to Albert and Frances Lundberg. In 1937, the Lundbergs moved west, settling in the small rice-farming town of Richvale in the Sacramento Valley. It was there that Eldon and brothers Wendell, Harlan, and Homer attended Biggs High School, from which Eldon graduated as the Salutatorian in June 1946.
Raised on the farm founded by his parents, Eldon began farming with his father Albert in 1948, while studying Civil Engineering at Chico State College. Eldon interrupted his studies to enter the U.S. Army, ultimately serving in the Army Intelligence Corps in Ishigaki, Japan.
On leave from the Army in 1951, he met Ruth Wendell. Eldon and Ruth were married December 4, 1953, and moved back to Richvale, California, where they built their lifelong home near the family farm. Ruth and Eldon have three children: Jennifer, Grant, and Julianne.
In 1958, Eldon Lundberg earned his private pilot certificate, fulfilling a lifelong dream to fly. He later joined the California and International Flying Farmers, taking to the skies at every opportunity.
In 1969, the four Lundberg brothers built their rice milling operations, which launched the Lundberg Family Farms® brand of rice products. Eldon served as president of the family business as it established its direct links with consumers over the next 25 years. During Eldon's tenure as president, Lundberg Family Farms grew into the nation's top producer of organic and eco-farmed rice and rice products. In 1997, Eldon's son, Grant, became CEO of Lundberg Family Farms beginning the transition to the third generation of the Lundberg family of rice farmers. In 1999, Eldon retired from day-to-day management of the business.
Eldon loved making and listening to music his entire life. He always promoted musical study and performance within his family. One of his favorite projects with Ruth later in life was to sponsor the refurbishing of the historic pipe organ at the church in Richvale and founding the concert series called Melodies At Noon. The series is a county favorite and will continue with his brothers' help.
Throughout his life in Richvale, Eldon was an active participant in community and industry activities. He served on the board of directors of the Butte County Rice Growers Association and was a longtime member of the U.S. Rice Council. He served on the Butte County Probation Board and was an active member of the Oroville Exchange Club.
Eldon Lundberg is survived by his wife, Ruth, and their three children, Jennifer, Grant and Julianne; brothers Wendell, Harlan, and Homer; and six grandchildren. Funeral services will be held at the Richvale Evangelical Free Church on Friday July 2, 2010 at 11:30 a.m. In lieu of flowers, the family requests that donations be made to the Richvale Evangelical Free Church or the Mount Herman Christian Conference Center.
###