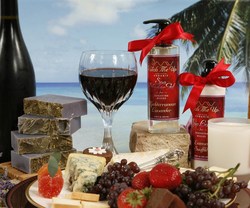 For those who don't have the time or money to go to a spa, they can at least take it home with them
Millbrae, CA (PRWEB) April 23, 2009
In this weak economy it's difficult to get away and pamper one's self with spa treatments and vacations. As a cheaper and imaginative alternative, PatchMeUpOrganics.com™ has proudly introduced 12 new aroma spa packages that allow women to visualize an escape to Italy or Paris or some other far-off destination… all in the privacy of their own home.
These organic "Aroma Spa Packages" are Visualized Vacations that whisk the pampered person off to one of twelve different destinations around the world -- such as the Greek Isles, the Caribbean or Tahiti -- but without the cost and the crowds, or the hassle of flying.
"For those who don't have the time or money to go to a spa, they can at least take it home with them," says Debra Mangum, owner of Patch Me Up™, who introduced the packages earlier this month. "Women and Men can still feel pampered, nourishing their bodies, lifting their spirits and feeding the soul."
She adds that the aroma spa packages are already proving popular and she expects this trend to continue in the coming months, even when the economy gets pumping again.
To view the aroma spa packages, go to http://www.patchmeuporganics.com/products.cfm?categoriesID=22.
So how do they work?
Specially selected aromas and music help you relax. Using visualization of images of experiences past or present (visualization and imagery) conjure up pleasant relaxing images, to the body and brings the body to a relaxed state seeing a picture perceived in the mind. Mangum says, similar to how freshly baked goods can remind one of going to Grandma's house. It's called visualization and imagery, and these packages have a clever way of helping the person picture themselves in a specific location or mentally taking them back to a place they have previously visited. To assure this visualized voyage is not disturbed a "Do Not Disturb" sign is also supplied that can be hung outside the traveler's door.
About Patch Me Up Organics.com:
Patch Me Up™, LLC (http://www.patchmeuporganics.com ) has been in business for over 10 years, catering to hospital facilities with ''Humorous Health Boxes & Bags''. In 2008, they launched a Body-Care product line with Certified Organic Ingredients, with No Parabens, No Animal Testing/By-Products, No Lauryl/Laureth Sulfates, No Artificial Colorants or Dyes, No Petroleum Derivatives, 97%-100% Synthetic Free, Scented with Pure Essential Oils, Vegan, Eco-Friendly, Eco-Chic Packaging, portions of proceeds go to Charities, a member of the Organic Trade Association and products are made in the USA. Patch Me Up Certified Organic & Natural Spa Products…for Deserving Bodies. In addition to its newly launched aroma spa packages, the site features an array of certified organic body-care products, and organic and natural soaps, pure soy candles, spa relaxing CDs and accessories.
###