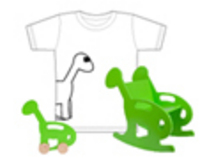 We are so excited to introduce all of these new organic baby and kids products and truly be the one stop shop for new moms
Seattle, WA (Vocus) May 14, 2010
EdenHome.com has added the best organic products from the top organic companies in a range of prices to meet a new parent's need for safe baby & kids gear regardless of budget.
"We are so excited to introduce all of these new organic baby and kids products and truly be the one stop shop for new moms," says Alexandra Smith, owner and senior buyer at EdenHome.com.
65 new organic baby and kids clothing items were added to the Eden Home site from top organic clothing companies such as Kate Quinn, Manny & Simon and Frugi. Organic baby clothes are chosen by Eden Home for being 100% pure from start (manufacturing) to finish (processing) and they are also chosen based on being highly stylish and fun. The organic cotton animal tees and coordinating wooden toys from Manny & Simon are a great example where the organic baby shirt is designed with a dinosaur print going from front to back and the print matches the dinosaur wooden toy rocker and push toy too, all made by Manny & Simon from 100% natural materials without chemical finishes.
Eden Home also added 33 new organic baby toys from top organic toy companies; Gund, The Maple Landmark Organic Toy Company, Manny & Simon, Green Toys and Sprig Toys. These new additions include dozens of new wooden toys, organic soft toys as well as a few BPA free plastic recycled toys.
Organic toys from EdenHome.com are not only safe and fun to play with, but they often have an eco-friendly story or message that makes a child's play experience more meaningful. Take the Recycling Truck Wooden Toy from Maple Landmark for example. With this wooden toy, less is definitely more since it is simply carved from plain natural wood and it also has a great message for children about recycling.
In addition to organic toys and clothes, Eden Home added 20 new organic baby accessories including the famous Baby Bjorn baby carrier that is now made with organic cotton. Other organic and natural baby products added include BPA Free kid dishes, organic baby bibs, organic car stroller and car seat covers and more.
In addition to organic baby and kids gear, EdenHome.com is the one place to go to find the largest selection of organic brands online for the home including organic bedding, clothing, home décor, organic gifts and more.
Eden Home provides a Seal of Assurance system that promises all of the products have been selected based on strict guidelines regarding the growing and manufacturing process from start to finish. You'll know exactly what you are purchasing and the ways it can benefit you.
Visit EdenHome.com now and save 20% off any purchase until May 31, 2010. Just enter code PRM20 to receive your discount plus FREE shipping on all orders over $100.
About EdenHome.com
EdenHome.com offers organic and natural yet stylish products for you, your home, bath, bed and baby. With the most comprehensive selection of natural products online they are continually expanding their selection to maintain their position as the leader in organic living. Every item offered is organic and pure without losing its beauty. EdenHome.com is a great place to find organic products for your family without sacrificing comfort or looks. If it's organic and stylish, you'll find it at http://www.EdenHome.com. You can also follow Eden Home Organic on Face Book and Twitter @EdenHomeOrganic.
###