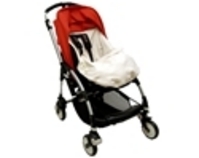 The Summer Muff is a great addition to our organic baby product line
Seattle, WA (Vocus) June 2, 2010
The SummerMuff's patent pending design uses 100% organic cotton treated with natural minerals to block more than 90% of the sun's harmful UVA/UVB rays. Its like putting SPF50 sun block on your baby, but instead you are draping them with a light all natural cotton fabric that protects them from the sun.
The back of the SummerMuff is also made of 100% organic cotton and fits over all 3 and 5 point harness straps to cover the scratchy synthetic fabric on infant carriers, strollers and joggers. The handy buttons and partial double zippers allow you to control air flow, and get baby in and out easily. The Summer Muff comes in a small size that fits carriers or a large size, that fits strollers and joggers, and is available in a variety of colors.
The SummerMuff was designed by founder Colleen Schropfer to protect her babies from the sun's harmful rays and synthetic scratchy stroller fabrics. On warm, sunny days, Colleen was constantly lining the back of the stroller with soft blankets or cloth so her baby's bare skin wasn't scratched by nylon and polyester stroller fabric. She also tried to attach various parasols and other contraptions to her strollers that shaded her baby's skin --sometimes – but also blocked her baby's view and made her cranky because she couldn't see during our walks; they also poked her in the eye a lot! These things drove Colleen crazy! So, she solved both of her problems with one design. Colleen Schropfer made SummerMuff from custom-made certified UPF50 fabric that is treated with minerals to block more than 90% of the sun's harmful UVA/UVB rays.
"The Summer Muff is a great addition to our organic baby product line" says owner and senior buyer, Alexandra Smith. "It is just amazing, a must have for any new parent, and it represents the type of products that we look for at EdenHome.com. Products that are high quality, 100% safe for baby while at the same time being fashionable and functional".
In addition to accessories for baby, Eden Home carries a range of organic baby blankets, organic baby clothes, organic toys and more.
Visit EdenHome.com now and save 20% off any purchase until May 31, 2010. Just enter code PRM20 to receive your discount plus FREE shipping on all orders over $100.
About EdenHome.com
EdenHome.com offers organic and natural yet stylish products for you, your home, bath, bed and baby. With the most comprehensive selection of natural products online they are continually expanding their selection to maintain their position as the leader in organic living. Every item offered is organic and pure without losing its beauty. EdenHome.com is a great place to find organic products for your family without sacrificing comfort or looks. If it's organic and stylish, you'll find it at http://www.EdenHome.com. You can also follow Eden Home Organic on Face Book and Twitter @EdenHomeOrganic.
###