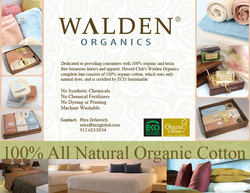 The organic textile industry is being challenged by the high demands of consumers following the green trend. Moreover, we can expect to see Walden Organics infiltrate the organic cotton industry with the elevated degree of globalized expertise they offer.
New York, NY (PRWEB) September 29, 2009
Walden Organics 2010 collection, offers a prominent line of bed, bath, and baby products utilizing its renowned organic textile technology and development with minimal impacts on the environment. The brand understands the consumer's desires to go green without sacrificing beauty and design. The simple yet elegant collection includes washcloths, towels in various sizes, cotton slippers, handmade soaps and bedding consisting of bed sheets, pillowcases, and blankets which are easy to care for as they do not wrinkle and is machine washable. In addition, hypo-allergenic baby mittens, booties, tops, bonnets, bibs, and stuffed toys are part of the unrefined collection captures the essence of sustainability.
"Our philosophy is that what Mother Nature gives us, we should give back in the way it was received," explains Seon Jung Kim, president of Hessed Club Inc., the company representing Walden Organics. "We fully understand that the consumers want to partake in this green movement. They are changing their habits in both luxurious and practical ways as they become more aware of the world they live in. That is the reason why we are dedicated to keeping our collection highly sustainable as many of our consumers seek the ultimate lifestyle satisfaction in health, spirit, and style."
Satisfying commercial and residential needs, Walden Organics' towels, slippers, soaps, and baby products offer luxury yet affordability and acts as a natural alternative to harmful synthetics. The washcloths, towels, slippers, and soaps are ideal for the spa industry. In addition to the aforementioned, Walden Organics bedding products can enter the hospitality industry especially in green hotels. All of Walden Organics' products including the line of baby products can fulfill residential needs ideal for environmentally aware households. Furthermore, Walden Organics offers various gift sets presented in simple yet stylish packaging that make perfect housewarming or baby shower gifts.
"Walden Organics's superior manufacturing of high-performance fabrics give buyers an advantage and opportunity in the rapidly growing organic textile industry," said Mira Zivkovich, president of MZI Global Marketing. "The organic textile industry is being challenged by the high demands of consumers following the green trend. Moreover, we can expect to see Walden Organics infiltrate the organic cotton industry with the elevated degree of globalized expertise they offer."
Walden Organics is certified under the Control Union World Group, a reputable leader in organic certification in the textile industry which manages quality assurance from production to manufacturing to distribution. Walden Organics passed a rigorous series of tests to obtain the certification and exceeded the highest standards of the Control Union. The brand received the EKO Sustainable Textile certification using the GOTS (Global Organic Textile Standard) which ensures quality organic textiles for natural dyes and production of textile products. The entire collection of organic cotton textiles are naturally dyed using botanical extracts and fruits resulting in ranges of beige, blue, pink, and yellow in warm, blush undertones.
Several beneficial features of the collection include:

Resistance to odor, mold, mildew, and bacteria even after numerous washings
Ideal for indoor and outdoor use - from bathrooms to pools and yachts
Benefits to children- Most green lifestyle parents are anxious to keep their children safe from exposure to harmful chemicals and pollutants, and understandably so. Walden Organics' organic cotton fibers are hypoallergenic and anti-microbial, which make them especially safe for babies
Easy care, machine-washable, no wrinkles
Made from a sustainable resource- Walden Organics has exceeded the test requiring cotton to be pesticide-free for a minimum of three years resulting in the highest quality of organic cotton
Luxurious, yet affordable
Highly absorbent, very breathable, and ultra-soft
The company's sample products are available upon request in New York. For more information please contact Mira Zivkovich at MZI Global at 917.653.5034 or 212.366.5409.
About Hessed Club Inc./Walden Organics:
Hessed Club Inc. is pleased to represent Walden Organics with its breakthrough, innovative development in the organic textile industry. Hessed Club Inc., a manufacturing and promotional product marketing company, specializes in producing and providing sales promotional products for companies. Since 2002, the company's president, Seon Jung Kim, has guided the company toward successful results with her expertise in sales promotion, partner relationship marketing, and promotional product management in various industries. The company also carries micro-fiber textile products and knitted scarves. For more information, please visit Hessed Club English or Hessed Club Main.
About Small Business Corporation of Korea (SBC):
Since its foundation as a non-profit government agency in 1979, SBC has been committed to fostering and promoting Korean small and medium sized businesses. SBC understands that excellence comes in different sizes and offers assistance to Korean businesses in entering the U.S. market. With a regional headquarters office located in New Jersey, it provides a variety of support services such as training, marketing, and financial assistance in order to increase the global competitiveness of Korean businesses. For more information, please visit Small Business Corporation.
About MZI Global Marketing:
MZI Global Marketing is an award-winning, full-service integrated marketing and advertising firm that creates and executes effective high-tech solutions for their clients across a wide spectrum of industries. Under the leadership of president and CEO Mira Zivkovich, recipient of the 2007 Ellis Island Medal of Honor, MZI Global Marketing puts its international, multicultural marketing expertise, mastery of interactive marketing strategies, and custom publishing prowess to work for clients that aim to build their businesses on a global scale. MZI Global Marketing is committed to guiding its clients from initial strategy to well-executed solutions, helping them surmount any challenge and achieving their every business goal. For more information, please visit MZI Global.
###