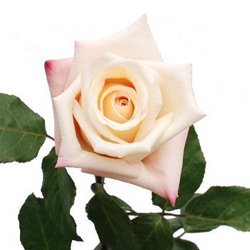 We are excited to be leading with positive change and sustainability in the fresh-cut flower industry. It's the right thing to do.
Ojai, CA (PRWEB) May 6, 2008
While evidence suggests that smelling and admiring conventional flowers does no harm, there are a growing number of consumers who favor sustainable development, and chemical-free products. In recent years, the flower industry has answered this demand by adopting various standards, such as VeraFlora, Biodynamic, and Fair Trade Certified. All of the environmental standards have merit, but the Certified Organic standard reaches the most consumers and carries the greatest appeal.
The organic rose program consists of following international standards for avoidance of synthetic chemicals; use of farmland that has been free from chemicals for several years; keeping detailed production notes; and maintaining strict separation of flowers grown organically and non-certified productions. The organic roses for sale at FiftyFlowers.com are certified by BCS, a USDA accredited agency that operates under the standards set by USDA/NOP Final Rule.
The goal of the organic movement is to create sustainable ecosystems and healthy organisms from the simplest creatures in the soil to the most complex of creatures -- human beings.
FiftyFlowers offers 33 types of organic roses, in varieties that include Anna, Black Magic and Forever Young - a diversified field of popular roses for weddings and special events.
"We are excited to be leading with positive change and sustainability in the fresh-cut flower industry. It's the right thing to do." - CEO, FiftyFlowers.com, Liza Roeser-Atwood
Organic Roses are available for between $1.86 and up to $2.78 including overnight shipping from FiftyFlowers.com
###