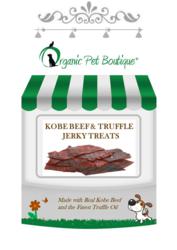 "Customers actually placed orders for these treats within days of putting them up on the site."
New York, NY (PRWEB) April 03, 2013
Determined to provide the very best in all natural dog treats, Organic Pet Boutique.com decided to come up with a treat truly fit for a king. Organic Pet Boutique's Kobe Beef and Truffle Jerky Treats are made with all natural Kobe Beef and are infused with some of the most expensive truffle oil in the world. For $1,000 your pet can enjoy an 8oz bag of the best dog treats money can buy.
When asked if the treats are selling the company's spokeswoman said "Customers actually placed orders for these treats within days of putting them up on the site." There are pet lovers out there that spare no expense in making sure their pet has the very best.
The company also sells a line of more affordable organic and natural dog treats including their most popular Organic Blueberry Dog Biscuit Treats that were mentioned with Matt Lauer from the Today Show.
Company Overview
Organic Pet Boutique.com was founded by pet Lovers Shana and Len Bentivegna in response to the massive China pet food recall in 2007. When their two pups became seriously ill they were determined to find a solution. It was discovered that organic and natural pet food was entirely unaffected by the recall. They said to themselves "If we eat organic and natural, why can't our pets? After extensive research, the company was launched in December of 2009 with the vision of providing pet lovers worldwide with a carefree "One Stop Shop Experience for Safe, Organic and Natural Pet Supplies." In addition to pet food, Organic Pet Boutique provides Organic and Natural Pet Beds, Pet Toys, Pet Treats, Pet Supplements, Dog Clothing, Pet Clothes, Dog
Harnesses, Cat Clothes and more.
In a short period of time Organic Pet Boutique has grown into the largest online retailers of Safe, Organic and Natural Pet Supplies. Their success was due to the overwhelming concern by pet lovers worldwide searching for solutions to all the harmful toxins being added to our pet's food, toys, treats and more.
Their company's mission is to "Improve the Lives of Pets by Rewarding their Unconditional Love with the Very Best in Safe, Organic and Natural Pet Supplies."
Recently, they have expanded their pet clothing line to include more dog clothing and a new category, cat clothes.