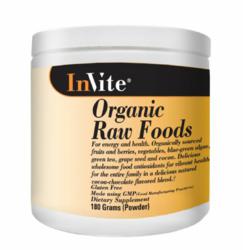 "A key benefit of InVite® Health's Organic Raw Food Powder is its ease of use."
New York, NY (PRWEB) April 30, 2012
InVite® Health, a leading nutraceutical firm headquartered in New York City, today announced the introduction of an Organic Raw Food powder product. Many scientific studies have found that raw organic foods contain high levels of antioxidants and other plant constituents linked to benefits for immunity and heart health. The product has been formulated in response to a high customer demand for organic raw foods that may easily be integrated into one's daily life; this helps make up for the number of servings of healthy foods a person consumes and the number of servings they should have.
"It is common knowledge that antioxidants and other constituents found in many raw foods, can help prevent disease," comments Steve Kornblatt, President, InVite® Health, Inc. "We would all consume more of these valuable nutrients if they were tasty, more easily absorbed and more readily available," Korblatt notes. "A key benefit of InVite® Health's Organic Raw Food Powder is its ease of use," he adds. "The powder is organic in its truest sense- meaning it is free from sprays such as pesticides and herbicides and it is also free of pollutants. One can increase the number of servings of fruits and vegetables everyone should be consuming daily by adding a scoop or two of this delicious cocoa-chocolate flavored food to a glass of water or even milk. Our customers report that even their vegetable-phobic children like it," Kornblatt concludes.
This organic health food that is loaded with vegetables and select fruits is a powder that easily makes any liquid a delicious antioxidant powerhouse. It is readily accepted by all ages and very popular due to its delicious natural-cocoa flavor.
This product is a great supplement that rounds out the body's supply of ultra-healthy ingredients and promotes overall health. The powder contains an abundance of powerful antioxidant foods; blue-green algae, berries, pomegranate, vegetables and grape seed to supply a wholesome protective blend of exotic foods benefiting one's skin, immunity, cellular health and detoxification. This food-powder will additionally increase users' energy levels.
Additionally these foods collectively offer the complex blend of food constituents that are very protective and beneficial to one's health. The antioxidant foods in Organic Raw Foods help shield the brain and memory functions, the eyes, the lungs and liver, the heart and vascular system.
For more than a decade, InVite® Health has been recognized as an innovator and leader in the nutritional supplement industry. Offering a comprehensive line of the finest quality vitamins, herbs, minerals, specialized formulas and personal care products, the Company has built a loyal and growing consumer base. Their solid reputation has been founded on ensuring the highest standards in nutraceutical research and product development. The firm is also committed to providing their customers with service excellence and assistance with charting and maintaining their path to wellbeing.