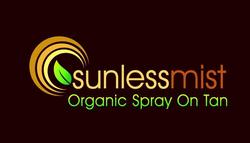 Birmingham, MI (Vocus) September 28, 2010
Sunless Mist unveils its Sunless Mist Organic Spray on Tan. This new self-tanner is now available to purchase online at sunscreenmist.com and it is being distributed to day spas, hotels, salons, and local salons throughout the world.
Sunless Mist Organic Spray Tan contains an organic vitamin mixture called "Firmaderm" which is anti-aging and helps reduce wrinkles. Sunless Mist does not contain alcohol, whereas most other self-tanner's contain alcohol that may actually dry-out the skin and cause wrinkles. "Firmaderm" moisturizes the skin, and promotes a natural deep dark tropical tan in seconds. Sunless Mist with "Firmaderm" leaves the skin leaving looking and feeling luscious and healthy. Within approximately 4 hours the Organic Sunless Mist will bring out the persons natural suntan. Sunless Mist has a sumptuous chocolate cherry essence and leaves the customer's skin glowing and revitalized.
The Sunscreen Machine (Booth's and Station's) feature its own exclusive line of spa mists that are blended fresh in small batches, to ensure the most luscious and refreshing spa products. These luxurious spa mists are specifically designed to be used in all Sunscreen Mist misting systems. The "Spa Collection" products have a refreshing & tropical mango-coconut aroma leaving the skin feeling silky smooth. The Sunscreen Mist Spa Collection includes UVA/UVB Broad Spectrum Protection SPF 15 and 30, Tan Enhancer, Organic Insect Barrier, and Cooling Aloe.
The self-automated Sunscreen Mist Booth and wand-based Sunscreen Mist Station allow users to quickly apply a measured dose of sunscreen. The user steps into the Booth or walks up to the Station and inserts bills/coins, blue-tooth, keycard, credit card or coupon. Then the user walks into the booth or picks up the misting wand, and pushes the "Start" button to begin the misting application session.
Sunscreen Mist will introduce the rest of their Spa Collection by the bottle in 2011. The Spa Collection includes SPF 15 Sunscreen, Tan Enhancer, Cooling Aloe, and Organic Insect Barrier.
Sunscreen Mist is looking to partner with distributors and sales representatives across the world to represent the bottled brand, as well as their innovative misting systems.
Sunless Mist & Sunscreen Mist will mail complimentary packages containing the Organic Spray Tan and SPF 30 upon request.
###