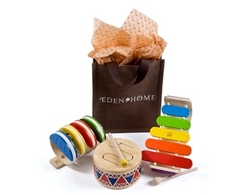 Eden Home is the first online retailer to package organic toys in ready-to-go gift boxes and gift bags. The Eden Home Big Band Organic Toy Gift Set is just one example from their 10 organic toy gift sets that shoppers can choose from.
Seattle, WA (PRWEB) December 3, 2009
EdenHome.com, where organic fun comes naturally, has just added more than 50 new organic toys to create the largest online collection of natural and organic toys. Made out of organic cotton, wood and BPA-free plastic, the toys have arrived just in time for holiday gift-giving. EdenHome.com is also the destination for a complete selection of organic, all-natural and eco-friendly products for a consumer's home, family and life without compromising their sense of style.
EdenHome.com's toys are pure and natural so people can be assured that their little loved ones have only the purest and natural materials close to them. The selection of organic toys ranges from organic teething toys for babies to cotton toys, wooden toys and BPA-free toys for kids of all ages. Shoppers will find brands including Plan Toys, Green Toys, Sprig Toys, Playfair Trading, Max's Mud, IdBids, Smart Gear, Global Green Pals, MiYim, Noo Noo, and Kathe Kruse. MiYim's adorable plush toys, such as Victoria Bunny, will make eyes sparkle and become a favorite friend for years.
EdenHome.com is a consumer's online elf to make holiday shopping easier. Eden Home is the first online retailer to package organic toys in ready-to-go gift boxes and gift bags. The Eden Home Big Band Organic Toy Gift Set is just one example from their 10 organic toy gift sets that shoppers can choose from. EdenHome.com helps make a consumer's holiday more enjoyable by offering a wide assortment of great gifts.
Organic toys from EdenHome.com are not only fun, but have a unique story or message that makes a child's play experience more meaningful. Global Green Pals such as Recycle Kyle will be a child's new best friend. Each Pal is from a different part of the world and plays a distinct role in the Global Green Pals story to stimulate the interest and creativity of a child.
Adults will wish they were a kid again when they see the organic rubberwood toys. The wide selection includes animals, racecars, a dollhouse, a city to plan and build, and even a dancing pull-string dog or alligator. Of course, that first set of organic wooden blocks is a must-have for baby.
BPA-free plastic toys, many made from recycled milk cartons, include dish and cook sets for the budding chef, a dolphin explorer boat set, an eco-saucer and an Eden Home favorite, the Eden Home Dumping Mud gift set. Organic Max's Mud is included with the ready-for-fun loader.
Learning about the environment is fun and friendly with eco-buddies such as Lola and Waverly. With distinct personalities and stories, each comes packaged along with a book and organic backpack in an eco-friendly kit from IdBids and will encourage little ones to take "iddy biddy" steps toward saving the planet.
These are just a few of the fun, safe, natural, organic toys shoppers will find at EdenHome.com. In addition to toys, EdenHome.com is the one place to find the largest selection of organic brands for everyone on the list – including the shopper and their home. Eden Home provides a Seal of Assurance system that promises all of the products have been selected based on strict guidelines regarding the growing and manufacturing process from start to finish. Shoppers know exactly what they are purchasing and the ways it can benefit them. Join Eden Home on Twitter @EdenHomeOrganic, Facebook at Eden Home Organic or on their blog: http://www.edenhome.com/blog.
Visit EdenHome.com now for a holiday gift of 20% off any 1 item until December 31, 2009. Just enter code FH09PR20 to receive discount plus FREE shipping on all orders over $100. And if people didn't think it could get any better, Eden Home is now offering FREE gift wrapping on all purchases until the end of December.
About EdenHome.com
EdenHome.com offers organic and natural yet stylish products for you, your home, bath, bed and baby. With the most comprehensive selection of natural products for your home and family, including organic clothing, organic toys, and organic bedding, we continually expand our selection to maintain our position as the leader in offering the most complete selection of the best organic brands available. Our products are as organic and pure as can be without losing the beauty. EdenHome.com is your resource to make organic choices for your family without sacrificing comfort or looks. If it's organic and stylish, you'll find it at http://www.EdenHome.com. Follow us on Facebook at Eden Home Organic and on Twitter @EdenHomeOrganic.
###