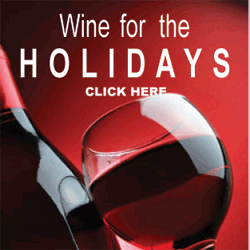 NO pesticides, fungicides, synthetic fertilizers or chemicals of any kind are used in wines.
Santa Barbara, CA (PRWEB) December 07, 2011
Looking for a holiday gift that is personal and universal, appreciated and fun? Holiday shoppers are turning to EcoVine Wine for organic wines and wine-related accessories to round out their seasonal shopping this year. EcoVine Wine is a natural choice for organic wine and wine club gifts.
Organic wine is moving beyond just a bottle brought to a holiday soiree as a thoughtful gift for the host or hostess. It's now possible to find organic wine gifts for friends, family members, fellow workers, and clients - virtually every adult who lives the healthy lifestyle will enjoy a glass of organic wine with their organic meal.
And there are so many great ideas to choose. Take for instance a top-of-the line bamboo corkscrew set, environmentally friendly wine totes, or the popular Vinturi wine aerator.
If the organic wine lover on your list is really after that hard-to-find sulfite free "NSA" organic wine - give an EcoVine Wine Club gift membership. They can have something to look forward to not just this holiday season, but throughout the year.
Organic wine makes a great gift because it's not something that will be put away and forgotten after the season has ended. It will be savored and enjoyed by both the wine novice and wine aficionado from the time the bottle is opened until the last drop is gone. An EcoVine Wine Club membership comes with rewards.
The benefits offered by EcoVine Wine Club which specializes in delivering hard-to-find organic wines from small, family-owned wineries to people all across the country. A one-month EcoVine Membership for $39 (one to 12 month gifts are available), will give the receiver two highly-rated bottles of wine (one red, one white) delivered directly to their home or office. They will also receive a fun and informative color EcoVine Wine newsletter featuring information about the wines, fascinating backgrounds of the winery owners, and behind-the-scene tours of the vineyards. Both gift givers and gift recipients receive discounts in the EcoVine Wine Store.
EcoVine Wine Club is dedicated to offering premium Sulfite-Free "NSA" wine, Organically Grown, Biodynamic and Vegan wines from grapes grown with NO pesticides, fungicides, synthetic fertilizers or chemicals of any kind. Organic wine lovers can discover an extensive selection of certified organic wines in the EcoVine Wine Store. EcoVine Wine features wines produced by family owned wineries and master winemakers. Many of the wines have won multiple medals and awards from major wine competitions and have high ratings from the major wine publications. Some wines are pre-releases and exclusives that are only offered at the winery itself and through EcoVine Wine.
Take care of all gift orders early by logging on to EcoVine Wine Club Gifts or call (805) 691-9442
# # #